How George R.R. Martin Feels About More Game Of Thrones Seasons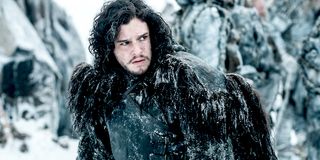 Art imitates life, life imitates art, and so it goes. With that said, it looks like the uncertainty surrounding the future of the characters on HBO's hit series Game of Thrones is bleeding over into the life of the source material's author. George R.R. Martin addressed this very uncertainty and discussed the future seasons (whether it be many or few) of his surrogate baby, Game of Thrones.
Fans and fanatics (which have become one and the same with HBO's Game of Thrones, no?) are no doubt ecstatic for the return of the Lannisters and the Starks this upcoming April. From the sounds of his latest journal entry, Martin is in the same boat. Not only is he excited about the fantasy drama series' return, he is thrilled at the prospect of seasons not yet etched in stone...err...shall we say "written into contract." In this recent entry, the author/screenwriter discussed his hopes for not only future seasons of the series, but also for a big screen finale. But for now, it's only hope. Here's how he put it.
Let's establish the fact that right now we're about to see the return of Season 5 in less a month. Further, in a move Martin made very clear was unorthodox for the premium network, HBO renewed the highly-touted series for a whopping two seasons shortly after the debut of Season 4, guaranteeing devoted fans will at least be graced with six seasons. After that, however, the writer says it's all up in the air. The hope is that (just like with the last renewal) after Episode 2 of Season 6 airs, the network will order Season 7 and in Martin's own words "just maybe, they will order Seasons 7 AND 8."
In other words, everything beyond Season 6 is in the land of pure speculation at this point. Martin points out that from the beginning, show creators David Benioff and D.B. Weiss made it clear they wanted seven seasons. Not only that, he said HBO told him up front (and repeatedly since) that they "want this to run ten years." Then there is the potential of one or more feature films, which the author "enthusiastically endorsed," but can neither confirm or deny. As to when and how the series will end, he answers vaguely and cryptically, "no one knows."
Of course my fellow die-hard Game of Thrones fanatics will join me on the front lines every step of the way, no matter how many TV seasons and/or movies, lapping up each and every minute of screen time... all the way until the very end. One can only hope that, in the ultra-difficult world of television production, they can hold on for seven to ten seasons and a feature film. Sounds almost impossible, but if any show can pull it off it's absolutely Game of Thrones.
HBO Now, arriving in April, will be available just in time for the series' triumphant return, as the first episode of Season 5, "The Wars to Come," will air on April 12, 2015. To help tide you over until the big return, check out this awesome GOT/Princess Bride mash-up clip.
Your Daily Blend of Entertainment News