Girl Meets World Casts Riley's Big Brother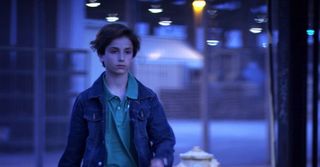 In Boy Meets World, Cory had his older brother Eric. The lead character of Disney Channel's spin-off of the popular 90's comedy will also have an older brother, and the role has been cast. Newcomer Teo Halm has been tapped to play the part of Elliot, the son to Cory and Topanga Matthews.
Disney Channel plans to continue the story of Cory and Topanga with a spin-off (potential) series from Boy Meets World creator and executive producer Michael Jacobs, that will focus on their daughter Riley, who is already set to be played by Rowan Blanchard. Today, TVLine reports that Riley's big brother Elliott will be played by Teo Halm. Ben Savage and Danielle Fishel are on board to reprise their roles as Cory and Topanga, the childhood sweethearts who are now happily married with children a decade later.
Should this pilot go to series - and the odds seem ever in this project's favor, given all the buzz surrounding it - this would be the first major role Halm is set to play. The actor is also listed among the credits of James Franco's planned biopic Bukowski. But if Girl Meets World ends up on the 2013-2014 schedule by The Disney Channel, we may see him on the small screen before Franco's film makes its way onto to the big one.
Will Elliott be the kind of older brother who looks out for his little sister? Or will he be the one to give her a hard time? Maybe he'll be a little bit of both, with the "nobody messes with my kid sis but me" kind of attitude. Hopefully we'll get to find out, should things work out for this highly anticipated project.