New Girl Season 3: A Look Back And A Look Ahead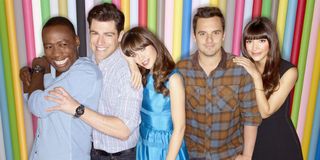 This week New Girl is going "All In" with its Season 3 premiere so now is a good time to take a look back at where the sitcom left audiences last year as well as make a few educated guesses about where the comedy could be headed this season. Let's start with a brief recap of the hit Fox series and what we know about the new season for sure before moving on to some plot and character speculation. Oh, and all with a little help from the cast. It's a 'recapreview!' How adorkable. Is that still a thing?
Obviously, with a sitcom there aren't a ton of plotlines to catch up with which is why it only took the New Girl stars about a minute to recap the previous seasons as well as hint at what's to come. But, they didn't really get into the details, the nitty and or gritty, that go hand in hand with the series' two central relationships. Before getting into it though, I think it's also worth mentioning, since the subject is perhaps too sore for the cast to breach (or it simply wasn't written into the promo script), that the excellent situation comedy was completely and unjustly overlooked at this year's Emmys.
That makes no sense because New Girl is easily one of the best half-hours on TV. The stellar cast (especially Zooey Deschanel, Jake Johnson and Max Greenfield) and crew (like Liz Merriwether and Jake Kasdan) should have been recognized for their amazing work. Oh well, awards aren't everything and I'm just happy to have the show back for another season, something that can't be said about some of the other great comedies from last year. Like (un)Happy Endings. Of course, their loss is New Girl's gain but more on Coach later, first let's get back to the recap starting with everyone's favorite 'will they, won't they' relationship. Spoiler alert, they did!
And here's a video detailing 'The Evolution of Nick and Jess.' It was pretty clear right from the beginning that the two disasters (otherwise known as Jess and Nick) would eventually get together but I'm not sure anyone could have guessed the (oddly) realistic patchwork way that the pair finally hooked up. It started slow, with the two sneaking a passionate kiss weeks (well, episodes) before they would take the next step. And just when things were starting to heat up in the boudoir, Jess' dad (played by the great Rob Reiner) showed up to make everyone second guess their decisions.
As Cece's wedding crumbled around them, Jess and Nick went so far as to 'call it' before realizing that perhaps they should give the relationship thing a real shot. As for how that will turn out? Well, I can't imagine anything between the two ever being smooth so there are sure to be several bumps on romance road. Probably even a break-up or two? And they will also surely have individual struggles over the course of Season 3 (will Nick grow up and get a real job? how will the new school work out for Jess?general roommate related drama?) but all anyone cares about is the relationship, right? Am I right? Here are the casts' 'Season 3 Predictions for Nick & Jess'...
Last season saw the pair mostly apart as Cece, in an attempt to get serious, agreed to an arranged marriage with a nice Indian boy and Schmidt, trying to rediscover himself, re-entered a college relationship. To say the wedding didn't go as planned would be an understatement (thanks Taylor Swift) but at least the couple are possibly getting back together. Well, she wants to get back with Schmidt but he's still enjoying the time with Merritt Wever's Elizabeth, someone who allows him to let loose and get in touch with his former (fat and not so smooth) self. When put on the spot, he simply ran away from the two women instead of making a decision. Who will he choose? I bet he sticks it out with Elizabeth for a little while longer, just long enough to keep things complicated. Here are the casts' 'Season 3 Predictions for Schmidt & CeCe.'
And then there's Winston. Oh, Winston. Fox didn't even give you a video recap. Probably because the writers haven't done anything all that significant with the character since he joined the show for the second episode. There have been a few girls (Brenda Song's guest spot was memorable) and a lot of choice moments (Black Santa) but the series still doesn't seem to know exactly what to do with Coach's replacement. Maybe that will be more clear when the man he replaced returns to the show this season. But before getting to how the former roommate coming back will affect New Girl, it's time to make a few 'Season 3 Predictions for Winston.' Yes, this time they did make his character a video. How nice.
Okay. Now that all the speculating over Season 3 has been done, let's finish up by discussing what we know for sure about the new year. As I alluded earlier, one of the biggest off-season developments that's sure to shake things up is Damon Wayans Jr.'s Coach returning for a several episodes. Wayans Jr was amazing on the (cancelled too soon) Happy Endings and I'm stoked to see what he can do with Coach, a much different character than Brad. This is like an amazing do-over, a chance to see how he would have fit into the dynamic with Deschanel, Johnson and Greenfield while also getting to see him interact with his equally talented replacement. Wayans and Lamorne Morris, best of both worlds!
The return of Coach is obviously the biggest development but there were also a couple other returning and new characters cast during the off-season. Eva Amurri will be back to torture Schmidt at his all female office while Angela Kinsey and Dreama Walker have been brought in to torment Jess at her new school. As far as the more immediate future, like tomorrow nights premiere, "All In" will probably continue to explore Jess and Nick's red hot relationship and address Schmidt's big decision all under the warm Mexico sun. That's right, true Americans, this party is south of the border. Here's a promo for "All In" and remember to tune in tomorrow night! How do you say adorkable in Spanish? That's not a thing anymore...
New Girl returns for its third season with "All In" on Tuesday, September 17 at 9 p.m. ET on FOX. Created by Elizabeth Meriwether, the series stars Zooey Deschanel, Jake Johnson, Max Greenfield, Lamorne Morris and Hannah Simone. You can rewatch (catch up) on New Girl by heading to Netflix for Season 1 and Fox.com for a few of the final eps of Season 2. As for the rest of the second season, well, why make that available before the third starts?