How I Met Your Mother Series Finale Spoiler Photos Tease 'Last Forever'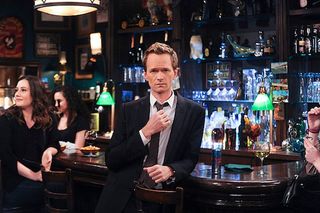 We still have a couple of episodes left before How I Met Your Mother wraps up. And by a couple, I mean exactly two. There's "Gary Blauman," which airs this Monday (March 17) and then "The End of the Aisle," which is set for March 24. The two-part finale, "Last Forever," airs March 31 and that's all she wrote. Or he wrote, technically. CBS has given us a look at the finale in the form of a number of somewhat spoilery images. I assume you're here to be spoiled a bit, but if not, off you go! Look no further!
BEFORE we get to the finale photos, just to give you a sense of the timeline for what's left of the season, the penultimate "The End of the Aisle" episode begins a half an hour before Barney and Robin head down the aisle to be married, and the photos we've seen from that episode, the one below included, show a wedding ceremony -- presumably the ceremony, but it's HIMYM so you really never know until you see the scenes in the episode...
And by "you never know," I mean, here's another photo from "The End of the Aisle."
Pictures can be tricky with this show full of flashbacks/forwards/sideways. What we do know about the finale is that it'll have Ted finishing the story he's telling his kids about how he met their mother. And the pictures hint that there will be a group scene on the balcony that may involve poking...
And saluting...
And either high-fiving or slapping?
Looks like the start of a a high five to me.
And group hugging...
And we know that at least part of the episode will take place at MacLaren's. What's Barney doing with the Playbook Vol. II?
There's also drinking and cuddling going on in the finale. Check out even more photos from the How I Met Your Mother series finale in the gallery below!
How I Met Your Mother airs Monday at 8:00 p.m. on CBS.
Image 1 of 12
Image 2 of 12
Image 3 of 12
Image 4 of 12
Image 5 of 12
Image 6 of 12
Image 7 of 12
Image 8 of 12
Image 9 of 12
Image 10 of 12
Image 11 of 12
Image 12 of 12
Your Daily Blend of Entertainment News
Thank you for signing up to CinemaBlend. You will receive a verification email shortly.
There was a problem. Please refresh the page and try again.