How Jason Momoa Responded To Dany's Khal Drogo Scene On Game Of Thrones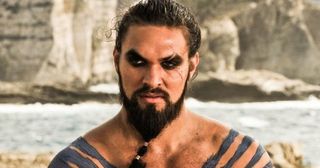 Game of Thrones returned to the schedule last weekend and a lot of people were watching. In fact, one of those people was none other than Jason Momoa, who played Khal Drago in early episodes of the HBO fantasy drama series. It was Drogo's death that allowed Daenerys Targaryen to begin her rise to prominence, and as it turns out, he's still keeping watch over Dany from the comfort of his home. This weekend, whilst Dany was dealing with a new Khal who hoped to rape her, Jason Momoa took to social media to share his thoughts. You can check out his amusing antics, below.
Jason Momoa may be moving on to bigger and bolder roles in the DC universe, but his Instagram posts this week show how much he still cares about his Game of Thrones family. It probably helps that Daenerys Targaryen actually really needed Khal Drogo or at least the memory of Khal Drogo during the Season 6 premiere this week. At the end of Season 5, she escaped Meereen on the back of her dragon, but was dropped off in the middle of nowhere. Unfortunately, before Jorah Mormont and Daario Naharis could find her, she was captured by a slew of Dothraki warriors and taken to their leader, who promptly decided to rape her. The good news? If you were formerly married to a Khal, you've earned a "get out of rape free" card. The bad news? You also have to go to some twisted retiree camp for the widows of all of the dead Khals. That's probably going to put a cramp in Dany's ruling style.
Still, it was pretty ballsy of her to tell the Khal to shove off, even as his other wives were talking about offing her. Jason Momoa seems pretty proud of his former onscreen wifey during the sequence:
There are TV shows where the actors don't even bother to watch their performances. (Here's looking at you Downton Abbey.) However, there are other actors who heavily invest in their projects or former projects. What I love about Jason Momoa's posts is that he's clearly still a fan of Game of Thrones despite the fact the show killed him off several seasons ago. He's still rooting for Dany, too, which is adorable.
Although death is an inevitability on Game of Thrones, it's nice to see people who once starred in the HBO drama move on to bigger and better projects. Jason Momoa, for instance, is DC Comics' brand new Aquaman. He's already cameo'd in Batman V Superman: Dawn of Justice, and he'll be appearing in the Justice League, not to mention his own standalone movie in the future.
As for Daenerys Targaryen? She's still fighting the good fight on Game of Thrones. Here's hoping she makes it to the end of the series. We'll find out soon enough, as there may only be a little over a dozen episodes to come following the end of Season 6. Here's what we know about the upcoming episodes. Or just catch them when they air on Sunday nights at 9 p.m. ET, only on HBO.
Reality TV fan with a pinch of Disney fairy dust thrown in. Theme park junkie. If you've created a rom-com I've probably watched it.
Your Daily Blend of Entertainment News
Thank you for signing up to CinemaBlend. You will receive a verification email shortly.
There was a problem. Please refresh the page and try again.