Jay Leno's Tonight Show Finale Brought In How Many Viewers?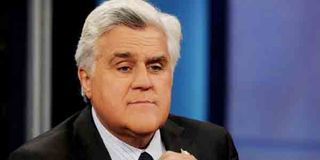 The Olympics are really popular. Despite the East Coast being nine hours behind Sochi and not getting to watch the events live, plenty of eyeballs will be fixated on NBC over the coming weeks. With those extra viewers in mind, the network smartly decided to let longtime Tonight Show host Jay Leno take his final bow the night before the closing ceremonies. That final bow took place last night, and not surprisingly, it proved really popular.
On Friday, NBC announced that 14.6 million total viewers tuned in to watch Leno say his goodbye to late night. While I'm sure the Olympics helped to raise the profile of the big farewell considerably, many of those audience members tuned in for a night filled with teary reminiscing, sentimental punchlines and a slew of guest stars, all wanting to send Leno off into the sunset with one more spectacular evening.
To give you an idea of just how much better 14.6 million viewers is than an average episode, you should take a look at the numbers The Tonight Show was doing around the time that Kimmel moved into the timeslot. 3.4 million total viewers isn't even a fourth of what the show did last night. Additionally, a press release from the network this morning reported that last night's episode did the show's best numbers since 1998—the night the Seinfeld finale aired on the network.
The hullabaloo surrounding the Olympics and Leno's departure also helped Fallon's Late Night program. Last night's episode of Late Night with Jimmy Fallon brought in 6 million total viewers, which also happens to be the show's best episode since the nineties. Back in 1993, Letterman's final Late Night episode did a little more than a million viewers better.
NBC doesn't always seem to have the best handle on marketing. The recent cancellation of Sean Saves the World and the dropping of The Michael J. Fox Show from the network's latest comedy lineup are pretty good examples of that, as is the fiasco that happened the last time Leno kinda sorta left The Tonight Show. Fortunately, the powers that be seem to have learned from their last late night mistake. NBC officially decided to hand Jimmy Fallon the reigns back in June and both Fallon and Leno have been jokey and friendly about the situation, even before NBC went public with the choice. That's created quite an atmosphere of good will, and clearly, that translated to total viewers last night.
Love him or hate him, Leno had a very successful run for more than two decades. He featured a ton of guests and had more than his share of laughs. He deserved one special night to say goodbye, and he deserved to have quite a few eyeballs for it.
Your Daily Blend of Entertainment News
Reality TV fan with a pinch of Disney fairy dust thrown in. Theme park junkie. If you've created a rom-com I've probably watched it.