Jennifer Lopez's Shades Of Blue May Drive The Last Nail In The Player's Coffin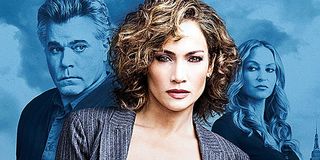 It's only been a few days since we found out NBC was cutting the episode order for The Player. Not only did the show not receive its back nine order, The Player actually saw four already-ordered episodes of the series get cut. Now, NBC has seemingly nailed the lid on the coffin by announcing the drama that will replace The Player on Thursday nights. It's called Shades of Blue, and it stars Jennifer Lopez and Ray Liotta.
That's right, NBC is still trying to use a lot of well-known talent to get its Thursday night lineup to pop. American Idol's Jennifer Lopez and Emmy award-winning Ray Liotta are both pretty big names to headline a series. If you don't know much about Shades of Blue, yet, the basic premise will follow Lopez as Harlee Santos (go ahead and cringe at that spelling). She's a detective and mom, sort-of like the lead in Mysteries of Laura, only Harlee's a single mom and she's way more willing to bend the rules for her boss Lt. Matt Wozniak (Liotta). Unfortunately, she gets caught in an illegal act by the FBI and has to become an informant in her own precinct without get caught. We're not going to say this is the edgiest premise NBC has ever come up with, but at least it's not about the über-wealthy betting on people's lives.
NBC isn't set to start airing Shades of Blue immediately, however. NBC's report this week notes that the two-hour premiere for the drama will air on Thursday, January 14 at 9 p.m. ET. The following week, the show will officially shift into The Player's 10 p.m. ET timeslot. This actually makes sense, because the network has already stated The Player will finish out its nine-episode run on the network. Presumably, the show will wrap and then NBC will take its winter hiatus, resuming with the new series when the midseason schedule kicks off this winter. From the looks of things, The Player is all but cancelled at this point.
You would think that Wesley Snipes would be a bigger TV draw than Lopez, which is likely why The Player kicked off the season on Thursday nights. But couple the fact that The Player has an over-the-top premise with the fact that the lesser-known (but equally awesome) Philip Winchester is really the lead, you can see why Lopez's new gig could end up being a better fit for NBC's Thursday night lineup, which currently also includes The Blacklist and Heroes Reborn.
Obviously, it's too early to tell if J.Lo will bring the goods to NBC's Thursday nights, but even if Shades of Blue ends up being a moderate hit, that should be a win for NBC, which has had one hell of a time competing on Thursdays against Shondaland programming on ABC and CBS' block, which is set to add The Big Bang Theory back into the mix next week.
You can catch the final few episodes of The Player on Thursday nights at 10 p.m. ET, only on NBC. And don't forget to give Shades of Blue a shot, starting on January 14.
Reality TV fan with a pinch of Disney fairy dust thrown in. Theme park junkie. If you've created a rom-com I've probably watched it.
Your Daily Blend of Entertainment News
Thank you for signing up to CinemaBlend. You will receive a verification email shortly.
There was a problem. Please refresh the page and try again.