Ken Marino And Tim Heidecker Join Season 4 Of Eastbound & Down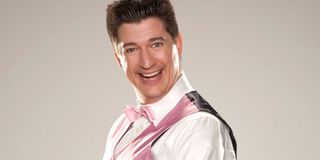 After a long wait between seasons, HBO recently announced its hit series, Eastbound & Down, will return to the pay cable schedule in September. Kenny Powers and most of the gang will be back, but now the series is signing on a few new names to fill new plotlines in the new season. The first big casting goes to Party Down and Veronica Mars actor Ken Marino, who has signed on to the series in a season-long arc. Additionally, Tim and Eric's Tim Heidecker has signed on to the series in a smaller, recurring capacity.
Deadline first reported the news, noting that Marino will join the series on the athletic end. It sounds like Marino may essentially be filling the niche that Jason Sudeikis' character brought to the show in 2012 as the hard-partying athlete, Shane. In Season 4, Marino will play a middle-aged athlete named Guy Young who still enjoys going out and having an insane time. He and Kenny Powers sound made for one another, but we'll have to wait and see how the season pans out.
Heidecker is also set to join the show, and it sounds like he may become Kenny Powers' new verbal punching bag. In Season 4, Heidecker will play Kenny's neighbor, Gene, a man who is straitlaced and lacks any sort of humor. With Kenny's constant douchebag comments, it looks like war lines could be drawn.
While HBO has renewed the series for a fourth round, the subscription cable network also effectively announced that the series will be over after the next eight-episode run (if you haven't heard that already, I'll give you a moment to mourn). Now, a few details have come out about the new series. First off, Kenny Powers will be back in fine and obnoxious, self-obsessed form.
Secondly, Season 4 is going to skip some time again, picking up a few years down the road from the end of Season 3, where Kenny faked his own death. In the new season, Kenny will have moved from the lovely waters of Myrtle Beach to North Carolina, where he will reside with his family, which I'm assuming refers to April and an older Toby. There's no word on whether or not Kenny will actually be playing baseball, but since Marino is playing an old, washed-up athlete, there's reason to believe Powers will at least be somewhat around the game. Or maybe he'll just be teaching his son to play little league. The possibilities are actually pretty endless, but it won't be too long before we get to see what Danny McBride, Ben Best, and Jody Hill have in store for our band of fucked up characters.
Eastbound & Down returns to the schedule on Saturday, September 29.
Reality TV fan with a pinch of Disney fairy dust thrown in. Theme park junkie. If you've created a rom-com I've probably watched it.
Your Daily Blend of Entertainment News
Thank you for signing up to CinemaBlend. You will receive a verification email shortly.
There was a problem. Please refresh the page and try again.