King Of The Nerds Reality Series Cancelled By TBS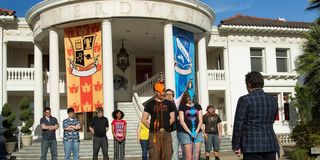 We live in an era where "nerd culture" has become increasingly mainstream, superheroes dominate the box office, and shows like The Big Bang Theory and Silicon Valley garner huge ratings week after week. However, it seems that the appeal of nerd culture does in fact have its own limitations. After three seasons, TBS has cancelled the reality series King of the Nerds, and will not seek a fourth.
King of the Nerds co-host Curtis Armstrong broke the news on his Twitter page last night, announcing to the nerd world that the show would not return after it recent finale this past march. Armstrong himself became an icon of nerd culture for his role as Dudley "Booger" Dawson in the 1980's classic comedy Revenge of the Nerds, along with fellow King of the Nerds host Robert Carradine.
Running from 2013 to 2015, the show itself played like a decidedly geekier version of CBS' Big Brother. Competitors from a variety of backgrounds – such as bioengineers, Trekkies, and Pokémon Masters – would face off in a variety of competitions that tested their intelligence as well as their knowledge of pop culture in an effort to win a $100,000 grand prize for the last nerd standing in a house lovingly referred to as "Nerdvana." These challenges ranged from knowledge of the Indiana Jones franchise, to an old school spelling bee. Never becoming a ratings giant, King of the Nerds experienced a steady decline in viewership over its three seasons – eventually being relegated to notoriously bad Friday nighttime slot before its ultimate cancellation.
It's difficult to pinpoint the exact reasoning for why a show such as King of the Nerds never experienced immense success, even when nerd culture has hit its apex in recent years. One possible explanation could be the simple fact that people do not want to see the "real" side of nerd culture. While King of the Nerds focused on true nerds in their own element, shows such as The Big Bang Theory and Silicon Valley –which focus heavily on the antics of socially inept, yet intellectually brilliant geeks – have merely taken the formulas of classic mainstream shows like Friends and Entourage, and injected nerd culture into said formulas.
Take Star Trek as another example: the J.J. Abrams reboots have done a marvelous job of taking the Starship Enterprise into the mainstream, but at the same time has gutted much of the science and diplomacy of the Gene Roddenberry series in favor of bombastic action sequences.
Mainstream audiences seem to enjoy watching films and shows in the realm of nerd culture, on the condition that these programs adhere to certain basic, mainstream principles – as such they don't seem to respond to a show such as King of the Nerds, which dove headfirst into the minutiae of such iconic properties and cultures.
Originally from Connecticut, Conner grew up in San Diego and graduated from Chapman University in 2014. He now lives in Los Angeles working in and around the entertainment industry and can mostly be found binging horror movies and chugging coffee.
Your Daily Blend of Entertainment News
Thank you for signing up to CinemaBlend. You will receive a verification email shortly.
There was a problem. Please refresh the page and try again.