How Legends Of Tomorrow's Vixen Will Be Different From Arrow's Version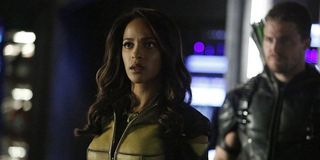 Comic shows have been taking television by storm, and The CW is the place to be for an entire universe of superheroes. One of the more unusual characters to debut on The CW recently was Vixen, who first flaunted her magical powers on an animated web series on CW Seed. She later appeared in the flesh as a guest star in an episode of Arrow, and she'll soon be making the big jump to appear as a regular on Season 2 Legends of Tomorrow. As it happens, however, Legends' Vixen Legends will not be the one who helped Oliver Queen, as this will be a Vixen of days gone by.
Vixen's appearance on Arrow helped Oliver out of a very sticky situation, but her powers were just a little bit too fantastical for her to fit in as a regular in Star City. A woman with the ability to use her magical totem to channel the abilities of animals could conceivably work long term elsewhere, though, so a past version of Vixen joining the time-skipping Rip Hunter and Co. could be the perfect way to incorporate her character into the Super-Legends of Flarrow-verse without overshadowing Oliver Queen on his own show.
The Vixen who showed up on Arrow was also known as Mari McCabe, and she was played by actress Megalyn E.K. Unfortunately for those of us who loved her portrayal of Vixen, Megalyn E.K. is too busy with other projects to join Legends of Tomorrow as a regular. Legends will use time travel shenanigans to recruit an earlier version of Vixen who may or may not have a connection with Mari, according to TV Insider.
Megalyn E.K. may not be tackling the role of Mari full-time in the near future, but Legends of Tomorrow choosing to introduce an earlier version of Vixen, rather than recasting the role, means that the actress could return to the DC TV Universe in the future. In fact, Megalyn E.K. will still be able to provide the voice to the animated Mari in the next installment of the Vixen web series.
It should be fun to see Rip Hunter pluck this new Vixen out of time to join his crew. None of the legends of Season 1 came from any other time period than the present; a Vixen from the past could mix things up in a very fun way. She won't be the only character to hail from a time other than the 21st century, but we can bet that she'll be the only one wearing a magical totem around her neck.
There's no news just yet of who we can expect to play the earlier version of Vixen for Legends of Tomorrow, so we can only hope that whoever wins the part will be as capable as Megalyn E.K. at bringing a character with magical animal powers to life. We already knew that there were no plans in place for another new show in the Super-Legends of Flarrow-verse. Vixen joining the crew of Legends of Tomorrow is the ideal way to spotlight the character on a regular basis.
Fun fact: if The Flash's Flashpoint storyline takes off, it might now include the plot point that Vixen and Oliver Queen were lovers at one point. While you're mulling on that, take a look at what we know so far about Legends of Tomorrow Season 2, and don't forget to check out our summer TV premiere schedule.
Resident of One Chicago, Bachelor Nation, and Cleveland. Has opinions about crossovers, Star Wars, and superheroes. Will not time travel.