Netflix Picks Up Ricky Gervais' Derek To Begin Streaming In 2013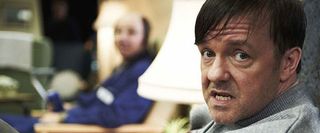 Ricky Gervais' Derek is heading to Netflix. The show's pilot was produced for British public access television, where it aired on April 12, 2012. A full series has been commissioned by Channel 4, and in the U.S., Derek, will be a Netflix exclusive.
Gervais wrote, produced, and acts in Derek, which follows Gervais as a naïve man that spends his days working in a nursing home. The pilot on British Channel 4 drew nearly 2 million viewers, which led to the full series order in the U.K. With Netflix picking up the series in the U.S., the upcoming comedy will no doubt garner far more eyeballs. Gervais said in a press release statement (that can be viewed over at The New York Times), that he believes the subscription service is where TV is headed.
Gervais follows several innovative television thinkers over to the online streaming service. These thinkers include Arrested Development's Mitch Hurwitz, who is bringing the cult show back, and David Fincher and Kevin Spacey, who are bringing House of Cards to Netflix.
With such avid competition, it's no wonder Gervais would want to give Netflix a shot. Derek is expected to begin streaming on Netflix sometime in 2013.
Your Daily Blend of Entertainment News
Thank you for signing up to CinemaBlend. You will receive a verification email shortly.
There was a problem. Please refresh the page and try again.