Will The Olsen Twin Return To Full House? Here's What They Say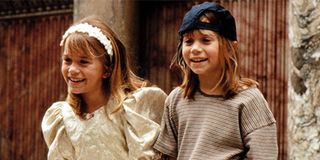 Everywhere you look, talk about the upcoming revival of Full House, titled Fuller House is rampant. With Uncle Jesse himself (John Stamos) having recently dropped the news, the specifics of the TV series are quickly starting to disseminate. However, for Mary-Kate and Ashley Olsen, the dynamic duo who collectively portrayed the talkative tot, Michelle Tanner on the original show, the news is brand new.
In a brief interview conducted late Tuesday appearing in Women's Wear Daily, it was revealed that the Olsen twins hadn't been privy to the developments of Fuller House any time before Stamos' original reveal. As such, they have yet to hammer out any deals to return for the spinoff series. According to Mary-Kate:
The show will be kicked off with an hour-long special serving as a reunion of the entire TV family. So, where does that leave Mary-Kate and Ashley Olsen? Well, seeing as they were apparently not contacted by anyone--even former cast members--about the project, it might be assumed that settling the terms of their reprisal may not be a priority at this point, even with the special. Luckily, it looks as if the twins will soon be getting in touch with the creators to investigate what's happening. However, it does beg the question of whether or not they should come back for the spinoff.
One would think that the negotiations would call for both of the twins to be involved, but clearly that is anything but necessary, as only one them is needed. In fact, it might be a bit odd, especially if they're still rotating the Michelle role, as they're currently pushing 30 years-old. We might be reading a bit into their comments, but this predicament didn't seem to be lost on the duo as Ashley would further add that they would need to call Bob Saget to get his advice before moving forward. It's hardly an enthusiastic affirmation.
If you are a person who did listen to the announcement from John Stamos earlier this week on Jimmy Kimmel Live!, you may already know the show synopsis details the 13-episode structure on Netflix. At the time, it seemed to imply that things were moving a lot quicker than we thought. However, according to recent comments from co-star Lori Loughlin, who played Stamos' TV wife Becky on the original show, negotiations with the prospective returning cast members have just begun. Loughlin is trying to negotiate what is called a favored nations deal for unspecified other returning cast members, ensuring across-the-board pay that they'd consider fair.
The show will center on Candace Cameron Bure, who in a poetic reversal of the original show's premise, takes center-stage of the series as a newly-widowed D.J. Tanner, raising her three sons. She'll be joined by Jodie Sweetin, returning as sister Stephanie Tanner, and Andrea Barber, who's also back as D.J.'s best friend, Kimmy Gibbler. Kimmy herself will be a single mother raising a daughter. While that is the apparent makeup of the Fuller House primary cast, it does seem that much of this project depends upon the return of the trio of classic paternal pals, headlined by John Stamos as Jesse Katsopolis, along with Bob Saget as Danny Tanner and Dave Coulier as Joey Gladstone. Whether or not it will see the return of the Olsen twins as Michelle Tanner obviously remains to be seen.
No further details have emerged regarding when Fuller House will begin production. However, the long-in-the-making spinoff will see its Netflix premiere sometime in 2016... Perhaps in time for a new Jesse and the Rippers album?
Your Daily Blend of Entertainment News
Your Daily Blend of Entertainment News
Thank you for signing up to CinemaBlend. You will receive a verification email shortly.
There was a problem. Please refresh the page and try again.