Playing House And Denis Leary's Sirens Comedy Get Series Orders At USA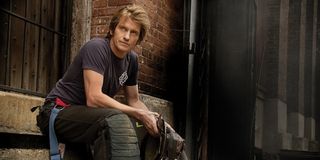 USA's known to incorporate humor in many of their drama series, but until now, the network's focus among its original programming has been on dramas. We knew that USA had its eye on some comedy projects and today the cable channel announced that they've greenlit their first-ever original half-hour comedies. Denis Leary and Bob Fisher's Sirens received a series order, as did Playing House from Lennon Parham and Jessica St. Clair. Meanwhile, Love is Dead has received a pilot order, and we can expect repeats of Modern Family to air on USA, come this fall.
Sirens is based on a U.K. series and is set in Chicago, following three of the city's best EMT's, who silly, self-righteous and occasionally self-destructive personalities cause some issues in their personal lives. But they're actually really good at their jobs. Denis Leary's experience with Rescue Me, which was more of a drama, but certainly had its funnier moments, has likely come in handy when co-writing the pilot for Sirens, alongside Bob Fisher. The series stars Michael Mosely, Kevin Daniels, Jessica McNamee and Kevin Bigley.
Meanwhile, Playing House is described as a single-camera comedy about two best friends whose lives come back together when they're in need of one another. The story's inspired by the friendship between creators Lennon Parham and Jessica St. Clair, both of whom mot only wrote the pilot, but are also set to star. Parham plays Maggie, a mother-to-be, while St. Clair plays Emma, the best friend who returns home from her job overseas to attend the baby shower. And that's just the beginning of this story.
The new comedies will make their debut on USA sometime early next year (2014). A pilot order went to Love is Dead, a single-camera comedy from Zev Borow, about a company that specializes in breaking up romantic relationships. That sounds like a recipe for some great humor.
Finally, USA says they'll begin airing Modern Family on September 24.
Your Daily Blend of Entertainment News
Thank you for signing up to CinemaBlend. You will receive a verification email shortly.
There was a problem. Please refresh the page and try again.