Ronald D. Moore's Outlander Adaptation Is Coming To Starz In 2014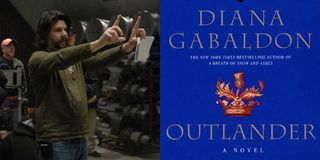 Nearly a year ago, we learned that Battlestar Galactica showrunner Ronald D. Moore was working on a small screen adaptation of Diana Gabaldon's Outlander series for Starz Today comes word that the premium cable channel has ordered the pilot to series, and Starz subscribers can expect Season 1 to premiere sometime in 2014. The series will begin filming in Scotland this fall.
Gabaldon's novel blends romance, sci-fi and history as it centers on Claire Randall, a married combat nurse in 1945, who touches a boulder and is whisked back to 1743 in war torn Scotland. She's eventually forced to marry Jamie Fraser, a chivalrous Scottish warrior, which ignites a passionate affair, and a complicated one, considering she has a husband in the future.
Great sci-fi is all about human drama, and it sounds like there's going to be plenty of that in this story. While the romance element sounds like a bit further away from Battlestar Galactica - though the series did feature some great romantic arcs - Moore did prove his ability to tell compelling human stories in a sci-fi setting. From the premise, it sounds like Outlander will give him the opportunity to that in a period setting, with a very different kind of war being waged.
Sex and warfare on Starz? There's something kind of very familiar about that blend. Starz's announcement of the series order indicates that they're teaming up with Sony Pictures TV for the drama, and that the first season, which is expected to debut in 2014, will consist of 16 episodes. That's a pretty hefty episode order for a Starz series. By comparison, both Boss and Magic City debuted with eight episodes. Spartacus began with thirteen episodes for Blood and Sand, but its later seasons consisted of ten episodes. So 16 is noticeably big for the pay-cable channel, especially for a first season.
It's exciting to see Starz moving forward with another interesting-sounding concept - and one that gives me a reason to bump Out up on my Kindle to-do list - and it's also incredibly exciting to hear that Ron Moore's heading up another series. Since Battlestar Galactica wrapped up, he served as an executive producer on the prequel series Caprica and developed a pilot called 17th Precinct, which didn't go to series. Not only do we have Outlander to look forward to next year, but he also has Helix set for Syfy. Watch the trailer for that below:
Your Daily Blend of Entertainment News
Thank you for signing up to CinemaBlend. You will receive a verification email shortly.
There was a problem. Please refresh the page and try again.