Saturday Night Live: How Stefon Was Created Out Of One Weird Email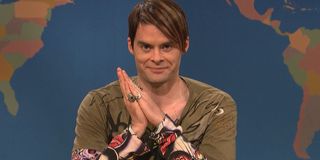 Although Bill Hader's lengthy eight-season run on SNL yielded a slew of memorable sketches and characters, he's probably still most known for Stefon, the oddball, flamboyant New York City correspondent on Weekend Update. This weekend, Hader shared the origins of the Stefon sketch, and they might not be exactly what you are picturing.
Recently, Hader said that he worked on the character with Mulaney star and former Saturday Night Live writer John Mulaney, after the latter received the world's weirdest email. Here's Hader's recollection of exactly how it went down...
Hader then told the Huffington Post that he also knew a barista with the same "essence" as Stefon. It was Mulaney who figured out how to couple the barista's mannersims with the weird email fodder and a late night character was born.
If you aren't familiar with what that strange amalgamation looks like, let's take a second to revisit Stefon in all his glory, from Hader's triumphant return hosting SNL this past TV season.
Stefon's whole schtick has always been introducing families to inappropriate nightclubs with bizarre names and even odder activities. The basic premise is definitely a gimmick, but the reason why it works is because of how utterly bizarre and strangely funny the specific places actually are. It's not just shock value. His recommendations are filled with really odd and amusing references --- like that time he brought up Dan Cortese over and over again, apparently because the former MTV star is the world's most outlandish partier.
It's always a bit of a surprise which characters and sketches stick with people during their Saturday Night Live tenures. Phil Hartman portrayed a ton of wild and amusing characters, but it's Unfrozen Caveman Lawyer people mostly remember. Will Ferrell will go down as one of the most successful cast members ever, and yet, it's the infamous one-off Cowbell sketch that's quoted the most. And for Hader, it's Stefon. It's nice to know he's comfortable with that.
Amazing Race & Top Chef superfan with a pinch of Disney fairy dust thrown in. If you've created a rom-com I've probably watched it.
Your Daily Blend of Entertainment News
Thank you for signing up to CinemaBlend. You will receive a verification email shortly.
There was a problem. Please refresh the page and try again.