Sean Patrick Flanery Cast In Season 8 Of Dexter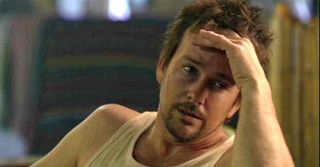 Dexter has added another new face to the cast for Season 8. Sean Patrick Flanery has been tapped to play an important recurring role for the upcoming season, which could well be the show's last – although there's no official word on that yet.
The casting word comes hot on the heels of the addition of Charlotte Rampling in another recurring role for the new season. Deadline says Flanery will be playing the role of Jacob Elroy, and ex-cop who now runs a private investigation service in Miami. Dexter had a strong seventh season, but that hasn't affected the rumors that the next season could be the last. David Nevins, Showtime's entertainment president, hasn't confirmed or denied the rumors, but did say that the show has "a clear end game in place," and that he wasn't able to talk about it yet. Though he said he might clarify on that before Season 8 airs, so we may hear official word one way or the other in the coming months.
Flanery, who is best known for The Boondock Saints movies, has made plenty of television appearances, most recently on Breaking In and in the TV movie Cold Spring with Natasha Henstridge. He's got a number of other projects on the horizon as well, including the movie Phantom with Ed Harris and David Duchovny. Flanery's role in Season 8 of Dexter is said to be a major one, so we'll be waiting to see if he is part of the "end game" Nevins mentioned.
The eighth and perhaps final season of Dexter is set to premiere on Showtime on June 30th, 2013 at 9 p.m. EST.
Your Daily Blend of Entertainment News