The Seinfeld Plot Julia Louis-Dreyfus Wishes She Hadn't Turned Down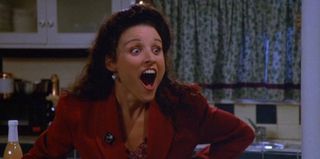 When you're on a television show that runs for nine season and 180 episodes, like Seinfeld did on NBC, you're going to hear a lot of ideas for potential episode plots over the years. Some are probably terrible, but there are also bound to be others that you're bummed you didn't get the chance to do. Series star Julia Louis-Dreyfus recently dished on one arc that could have been.
The Veep star showed up on her season six premiere of former co-star Jerry Seinfeld's Crackle digital series Comedians in Cars Getting Coffee, which is exactly what it sounds like from the title. The old friends reminisce about all kinds of things, and Louis-Dreyfus brings up a time when she was five months pregnant on set (this starts at around 4:19 of the episode), and Seinfeld's suggestion for a work around was just to write it into the season that Elaine would get really fat. Louis-Dreyfus says:
While her initial reaction to this suggestion was emotional and rather violent, after she had time to step back and examine the potential, from some distance and a comedic standpoint, she came to recognize the possibilities this strategy could have yielded. Given the character dynamic between Elaine, Jerry, and George, and their continual nitpicking of each others flaws, physical and otherwise, there does seem like the writers could have come up with a wealth of hilarious storylines to accompany the weight gain.
Hell, they would probably also had a field day with her losing the weight and regaining her normal figure too. Sure, it's a taboo subject, but when did Seinfeld ever shy away from stirring the pot a little bit with their peculiar sense of humor? Just yesterday, George Costanza himself, Jason Alexander, caused a bit of a ruckus when he shared the story behind why the actress who played his fiancé, Susan (Heidi Swedberg), was killed off on the show.
Seeing the two former costars, Jerry Seinfeld and Julia Louis-Dreyfus together again, bantering back and forth with their trademark sharp wit, gives you a definite feel for the chemistry they had on screen for so many season, and gives you a good idea of just how much of each of them ultimately made its way into their alter egos.
Your Daily Blend of Entertainment News
Thank you for signing up to CinemaBlend. You will receive a verification email shortly.
There was a problem. Please refresh the page and try again.