Shades Of Blue Trailer: Jennifer Lopez's New Show Looks Outrageous But Fun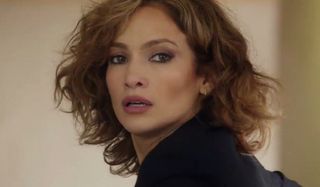 Many actors who have made most of their money as movie stars have been breathing a sigh of relief in recent years as they find additional work in television. Some of these stars were once movie staples. Others are simply using TV shows to broaden the scope of their work. Now, Jennifer Lopez is joining the list and trying her hand at television stardom on Shades of Blue.
Well, that's just crazy. Did you see detective Harlee Santos (Jennifer Lopez) shoot her partner? All to make their lie convincing after he shoots a guy who was playing the wrong video game at the wrong time. Jenny from the block is going to be hardcore in this show, no doubt. Granted, the guy did have illegal drugs and a gun that was probably also illegal, but, man, she did indeed "improvise" on that one. And it sounds a lot like her mentor and boss, Lt. Matt Wozniak (Ray Liotta), is just as "creative" as she is, and I wouldn't be surprised if she learned her policing tendencies from her mentor.
Even worse for Santos, it isn't long before she gets caught and has to rat out her "crew" to the Feds to keep her young daughter safe. And what cop has a crew, anyway? That's what gangsters have, whereas cops are just supposed to have co-workers (like the rest of us) and partners. I guess that tells us a lot about this particular group of police officers. Of course, in a tense show like this, you can't just have Santos two-timing her crew for the Feds without suspicions arising. It's entirely possible that her efforts to take down fellow dirty cops will get some other cop killed in the process.
Shades of Blue does look like it'll be some good, old outrageous fun come early January when it debuts on NBC. With a network that has a history of cop shows filled with some deep and often shocking drama (take your pick of any Law & Order show from the past twenty or so years) this show will likely fit right into the schedule. The difference being that this looks to be at least a little less procedural because of the not-so-good cop versus bad cops through line.
The show might fit nicely at NBC, but (as we all know from decades of TV shows) that's no guarantee that it'll catch people's attention and stick around for a long time. It's possible that Jennifer Lopez's star power is still great enough to cause folks to check her show out and become invested in it, but we'll have to wait and see. As steady as she looks holding a gun and faking a shootout, shows don't get long to light a fire under the audience in the wilds of TV these days. Here's hoping Lopez and her crew deserve to get a chance to engage in some shenanigans long enough for us to love to hate them.
Shades of Blue premieres on NBC on January 7 at 9 p.m. ET.
Bachelor Nation, Gilmore Girl; will Vulcan nerve pinch pretty much anyone if prompted with cheese...Yes, even Jamie Fraser.
Your Daily Blend of Entertainment News
Thank you for signing up to CinemaBlend. You will receive a verification email shortly.
There was a problem. Please refresh the page and try again.