Spartacus Season 3 Casts Three New Female Roles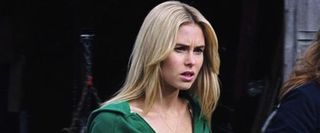 Last month, we learned that Cabin in the Woods star Anna Hutchison was set to join the excellent Starz drama series Spartacus for the series' third season. At that time, we didn't have any details as to what kind of role she's playing. Today we have a bit more information, as well as some other casting news!
Some spoilers ahead, especially if you're not caught up on Spartacus Vengeance!
After so many deaths at the end of Vengeance, it's likely that the series will need to restock its cast, especially on the female front. From what series creator Steven DeKnight said, we knew that there were three new female roles set to come into play for Season 3. Hutchison's casting suggested that she was one of them. Today, TV Line confirmed this, stating that the New Zealand actress is set to play the role of Laeta, " the privileged wife of a Roman dignitary who becomes entangled in the struggle against Spartacus." Her life will apparently be "forever changed" by the conflict, which will also affect the people she loves. Isn't that always the way of it?
Also joining Spartacus for Season 3 are Jenna Lind and Gwendoline Taylor. Australian actress Lind will play a slave to Marcus Crassus named Kore. TV Line teases us by saying that "Her deep feelings for her master will be sorely tested by spiraling events." Very interesting. And New Zealand actress Taylor is also playing a slave, though it sounds like she may end up on the other side of things as she manages to get rescued and at some point, come into contact with "key leaders in the rebellion." Spartacus? Crixus? Gannicus?
It's already nearly impossible to picture Spartacus without Ilithyia and Lucretia, but knowing that there are new female roles (and actors locked in to play them) has me very excited for the new season. Unfortunately, we have until January 2013 to wait for that.
Your Daily Blend of Entertainment News
Thank you for signing up to CinemaBlend. You will receive a verification email shortly.
There was a problem. Please refresh the page and try again.