Steven Spielberg's Amazing Stories Is Coming Back To TV, Get The Amazing Details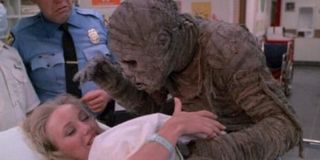 Amazing Stories, the anthology series that focused on the weird and the strange back in 1985, is coming back to television to deliver more tales from the odd and the fantastic. For two seasons, the series that was created by legendary director Steven Spielberg chronicled supernatural tales. Now, the show returns, but so far sans Spielberg.
NBC, which aired the original for two seasons from 1985 to 1987, will revive the series with Hannibal showrunner Bryan Fuller at the helm, according to Entertainment Weekly. Fuller will executive produce and write the pilot script. Fuller is also showrunning the Starz series American Gods, based on the acclaimed novel by fantasy writer Neil Gaiman.
The original Amazing Stories earned massive critical acclaim, and received 12 Emmy Award nominations that netted the series five wins. If you're thinking that the show's name sounds oddly familiar, that could be because the iconic pulp science-fiction short story magazine Amazing Stories not only shares the same name, but licensed the name to the show.
The announcement of Amazing Stories' revival coincides with two prevalent trends happening in television right now. First, there's the revisiting of older properties in an attempt to cash in on nostalgia and the audience's fondness and longing for these familiar brands such as the recently announced MacGyver, The A-Team, and Fantasy Island. And then there's reemergence of the anthology format as seen in shows like True Detective and American Horror Story, to name a few.
A closer look at Fuller's body of work denotes the acclaimed director as the perfect fit for the reboot. Fuller, like Spielberg (who could always jump onto the project as a later date as an executive producer), dropped out of USC's film school, and his work as a writer/director imbues a quirky, geektastic sensibility that will lend itself well to Amazing Stories. A self-professed sci-fi fanatic, Fuller cut his teeth writing for the Star Trek universe for both Star Trek: Voyager and Star Trek: Deep Space Nine. Fuller then created several series that earned cult followings, such as Dead Like Me, which was a dark comedy revolving around grim reapers who set about to collect souls; Fox's Wonderfalls, which followed a clerk who conversed with wax animals; and ABC's Pushing Daisies, about a pie-maker with the ability to bring dead things back to life with his touch. Fuller's blend of comedy and surrealism may ensure that the reiteration of Amazing Stories has a chance at success at NBC, though that will largely depend on the budget and leeway afforded him by the network.
Despite the original Amazing Stories critical success, the show was cancelled after two seasons due to poor ratings. Both seasons ranked in the 40s on the Nielsen charts, which led to its ultimate demise. However, the show also gave us Spielberg's 1987 classic *batteries not included. It will be interesting to see how much, if at all, Fuller uses the show to indulge his "Fullerverse," a fan-dubbed phenomenon in which Fuller utilizes characters and icons throughout his various series, or whether it leads Fuller to developing entirely new characters and stories.
Your Daily Blend of Entertainment News
Thank you for signing up to CinemaBlend. You will receive a verification email shortly.
There was a problem. Please refresh the page and try again.