Super Bowl 50 May Have Found Its Halftime Act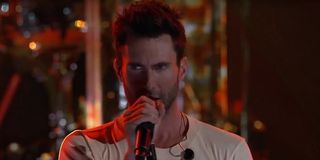 Ah, the Super Bowl. The year's most-watched and hotly anticipated circus for which millions tune in by the droves while generally uninspired though occasionally commercials and celebrity hoopla happens around a football game. Now is the time of year when speculation starts to swirl around the interwebs regarding what musical act will play the event's halftime show of the event, and it appears that Adam Levine's band Maroon 5 looks to be the current front-runner.
E! Online reports that the pop rock band fronted by The Voice judge Levine is in talks with the NFL to provide the halftime entertainment. Last year, pop princess Katy Perry put on a dynamite show that included surprise appearances by Lenny Kravitz and hip hop star Missy "Misdemeanor" Elliot. The event was watched by over 118 million viewers, making it the most watched halftime event ever.
The previous year, Bruno Mars headlined the event and was joined on stage by the Red Hot Chili Peppers. It has been rumored that Mars was offered the opportunity to "curate" this year's gig and perform again, but he so far hasn't given his thumbs up. Also rumored to be in consideration by the League are British rock band Coldplay.
This year's event will mark the 50th anniversary of the Super Bowl and one would think that the National Football League would want to ensure that this year's halftime show is as big as it gets. For years, a petition has circulated the internet by fans of thrash metal legends Metallica to get the Four Horseman to play the Halftime show, but ever since Super Bowl XXXVIII's halftime performance by former N'Sync-er Justin Timberlake and Janet Jackson broke television by accidentally exposing one of Janet's nipples by way of a "wardrobe malfunction," the NFL has taken great pains to book "safe" and non-offensive acts for the event.
Any why wouldn't they? Aside from incurring the wrath of the FCC and having to field thousands of calls from uptight viewers who apparently fear that their children will burn in eternal hell for accidentally catching a half-a-second glimpse of a natural part of the human anatomy, the incident also cursed us with the now hack term "wardrobe malfunction," which is, in and of itself, enough to warrant intense scrutiny.
Still, even with the League acting…perhaps overreacting…to the infamous Timberlake/Jackson fiasco of 2004, they could stand to do far worse than Maroon 5. It will be interesting to see if the tradition of having a non-advertised surprise act as a part of the festivities continues, and even more curious to contemplate who that might be? Wouldn't it be just bad ass if it WAS Metallica? It just might be the earliest anything from San Francisco gets to performing at the big dance, and considering this year's event is in Metallica's own backyard of Santa Clara, it would give Bay Area fans SOMETHING to be excited about.
(I keed, I keed.)
Super Bowl 50 will come to you from Levi's Stadium on Sunday, February 7, 2016, live on CBS.