Supergirl Renewed For Season 2... On The CW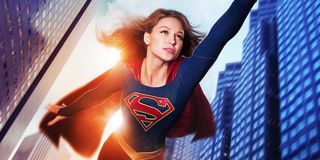 Although Supergirl got off to a promising start last October on CBS and has earned many positive reviews since then, the show has struggled on the network since with ratings and viewers. In the weeks following the Season 1 finale, there's been various reports about whether the show would return for a second season. After much deliberation, it's been announced that Supergirl has been renewed for Season 2, but it will air on The CW rather than CBS.
This move was finally confirmed by EW after weeks of reports about network executives contemplating bringing Supergirl to the same home as other DC superhero shows Arrow, The Flash and Legends of Tomorrow. This might mean that Supergirl will move production from Los Angeles to Vancouver, though The CW wouldn't confirm that. Because of this shift, this will also likely reduce the show's budget in order to work on the other network. On CBS, the per-episode cost was apparently around $3 million.
While a lower budget and a location move will certainly be a lot to deal with, going to The CW like the best move for Supergirl. Although CBS seemed keen at first on bringing in their own superhero fare, it never really fit in with the network's typical batch of programming. That, combined with the numbers, made it the odd woman out at CBS. The report noted that when DVR playback was accounted for, Supergirl averaged around 9.8 million viewers, which is low by CBS's standards, but would be amazing for The CW. They've proven that they know what their doing with superhero TV, so Supergirl will feel right at home.
The biggest takeaway from all this besides Season 2 is that this will make it easier for Supergirl to cross over with The CW's other DC shows. Grant Gustin guest-starred as Barry Allen, a.k.a. the Flash, in the Supergirl episode "Worlds Finest," and it was clear to viewers he and Kara had great chemistry together. Had Supergirl remained on CBS, no doubt they would have tried to do more crossovers, but it still would have been a difficult process. By being on the same network, it's much easier to accomplish, especially if the show moves to Vancouver. Now the Girl of Steel will be able to interact with the other superheroes, from Green Arrow and Speedy to Vibe and The Atom (played by Brandon Routh, a former Superman). Also, who wants to bet that Kara Zor-El will somehow be the focus of the winter crossover between Arrow, The Flash and possibly Legends of Tomorrow? This could be something as big as her Earth somehow merging with Earth-1 or a more normal team-up with the CW veteran heroes traveling to her Earth or vice versa.
We'll keep you apprised of new details regarding Supergirl's move to The CW and general Season 2 announcements, but in the meantime, let us know what you think about this news in the comments below.
Connoisseur of Marvel, DC, Star Wars, John Wick, MonsterVerse and Doctor Who lore. He's aware he looks like Harry Potter and Clark Kent.
Your Daily Blend of Entertainment News
Thank you for signing up to CinemaBlend. You will receive a verification email shortly.
There was a problem. Please refresh the page and try again.