TV Recap: The Office - Cafe Disco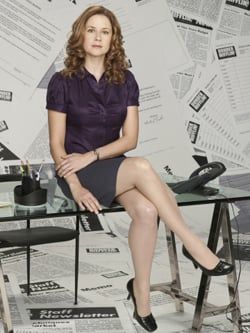 Tonight was one of the most random episodes of The Office. There were three main things happening as the episode progressed. The first was Michael attempting to get a disco-thing happening in his old office downstairs. Then there was Phyllis throwing out her back and Dwight attempting to help her and finally we had Jim and Pam getting ready to elope.
Wait, what? Jim and Pam eloping? That's right. The two woke up this morning and thought, let's get married… today. They found out that there's no wait for a license in Ohio, so they packed up their finest clothes and prepared to make a little road trip to Youngstown.
Meanwhile, Michael wanted to prove once again that he's not as serious as Charles, so he brought an espresso machine into the "office" formerly home to The Michael Scott Paper Company and invited everyone to join him for a bit of dancing. Because why do work when you can dance with your coworkers? Barely anyone showed up at first but Phyllis thought maybe she might be able to get Bob Vance out of Vance Refrigeration for a little bit of dancing. His secretary shooed her away and Phyllis ended up throwing her back out while dancing.
Ever the hero, Dwight got Phyllis into the conference room, cut the back of her shirt and proceeded to massage her. Yeah, you'd think this would be kind of creepy but he was completely professional and actually managed to fix Phyllis' back. By the time she was back on her feet and her shirt was stapled up, Phyllis was over her ridiculous fear that Bob might have eyes for anyone but her. She returned to the disco, which was in full swing by then, and Bob showed up to dance with her.
Michael had given up on the disco but the party arrived when Kelly and Erin showed up and started rocking out, disco style. They made the wise choice to change the music from the classic C&C Music Factory to some better dancing music and what started out as the two of them dancing while the maintenance guy ogled them, turned into a full on dance club, complete with lame dance-off. Andy and Kelly tried to out-dance each other and while neither of them had any moves that would blow your mind, even with the chair Andy dragged in for prop-purposes, they did manage to capture everyone's attention.
Jim and Pam got all gussied up and prepared to leave for Ohio, when they decided to stop in at the makeshift dance club. I'm thinking that at the very least it was in the back of their minds that maybe they were making a hasty decision. It's not that they're not ready to get married. We know they love each other but eloping? Doesn't Pammy deserve her dream wedding? Sure, she looked gorgeous in that pink strapless number but I know I would've felt cheated if we never got to see Pam in a classic white gown.
While rocking out to "YMCA," a staple dance-song for any wedding, Pam decided that she wants a real wedding. Of course you do, Pam! So the elopement's off. Hooray!
Kelly joined CinemaBlend as a freelance TV news writer in 2006 and went on to serve as the site's TV Editor before moving over to other roles on the site. At present, she's an Assistant Managing Editor who spends much of her time brainstorming and editing feature content on the site.
Your Daily Blend of Entertainment News
Thank you for signing up to CinemaBlend. You will receive a verification email shortly.
There was a problem. Please refresh the page and try again.