Tori And Dean: Would You Like Fries With That?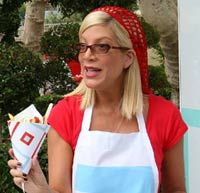 If there's one thing that we can learn from Tori Spelling and Dean McDermott from their Oxygen Channel reality show, Tori & Dean: Inn Love, its that running a bed and breakfast, parenting an infant, juggling various celebrity-career opportunities and trying to remain happily married all at once is no easy task.
When the series premiered last March, we saw newly married Tori and Dean leave Los Angeles and settle down near Temecula, California where they planned to run a Bed and Breakfast. Tori sweated out her pregnancy while she and Dean went to work getting the B&B redone and opened. When the season ended, their baby was born and a new adventure had begun.
In the second season, which started up over the summer, the two went back to work at the B&B. They added a bit of flavor to the place by hosting a gay marriage and as shown in a recent episode, a special weekend for nudists. They occasionally took time off to travel to The UK, Canada and some other places to work on their other careers (Tori's jewelry line, Dean's acting, etc).
In the season finale, they'll have to decide whether or not to buy the inn or let the lease run out. On top of that, the couple unveil their French-fry business at the L.A. County fair.
The season finale of Tori & Dean: Inn Love will air on Tuesday, October 23rd at 10:00 PM on the Oxygen Channel. Love ya, babe!
Image 1 of 2
Image 2 of 2