Unbreakable Kimmy Schmidt Season 2: One Character Will Definitely Not Be Returning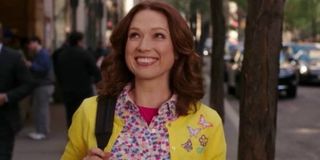 Anyone who caught Unbreakable Kimmy Schmidt last year is undoubtedly eagerly waiting for the start of Season 2 to finally get underway. Luckily, its spring start date is just around the corner, and while Ellie Kemper, Tituss Burgess, Carol Kane and Jane Krakowski are all due to return one particularly exemplary co-star won't be involved: Tim Blake Nelson, who played Randy, the fabulously incompetent step-father to Kimmy Schmidt who was just inept as a state trooper too.
Tim Blake Nelson made this admission to me earlier this week when I sat down to speak to him about his latest directorial effort Anesthesia. Obviously, I couldn't resist the chance to ask him about a potential return for Season 2 of Unbreakable Kimmy Schmidt, which is when he delivered his devastating news.
Absolutely devastating. A goofy over-the-top Tim Blake Nelson, which is certainly what his performance as Randy can be described as, instantly improves any show or film. Just look at O Brother Where Art Thou?; and Nelson was one of the few people to come out of the disastrous Fantastic Four with any credit, too.
Obviously, the lack of Tim Blake Nelson doesn't completely wreck Unbreakable Kimmy Schmidt, but he will still be sorely missed. Of course, that also means the bratty antics of Kiernan Shipka's Kymmi, Kimmy's half-sister, will probably be in short supply too.
However, it also suggests that future episodes of the sitcom will see the characters covering fresh, new comedic ground, which it's always great to hear. Especially since Unbreakable Kimmy Schmidt is packed to the brim with sensational talent, from Ellie Kemper's charming leading antics to Tina Fey and Robert Carlock's pitch perfect writing. Also, let's not forget Tituss Burgess, who instantly became everyone's favorite sitcom actor thanks to his constantly hilarious performance as Titus Andromedon.
For those of you that don't know, Unbreakable Kimmy Schmidt revolves around the resolute titular character who was previously held hostage in an underground bunker for 15 years as part of a doomsday cult. After breaking free Kimmy moved to New York City, and the show follows her adjustment to modern life. It's shown on Netflix, has the best theme song currently on television, and will be returning in Spring 2016 for the second season. Here's hoping it gets picked up for Season 3, in which Nelson's Randy can make his triumphant return.
To find out when everything else is premiering and returning over the next few months, check out our midseason TV schedule.
Your Daily Blend of Entertainment News