Veronica Mars Stars To Return To Their Roles For Web Series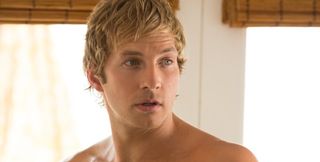 We've known for a while now that Veronica Mars was getting the web series treatment in the form of a digital series centered on Ryan Hansen and his (fictional) efforts to get a Dick Casablancas spinoff series off the ground. Today brings word of the confirmed cast for the series, and well, it's pretty much everyone.
Pretty much but not quite everyone. And in addition to returners, iZombie's Rose McIvor and Robert Buckley are also set to appear. That seems to tie together Rob Thomas' new CW show with Veronica Mars.
Buzzfeed lays out the list of original Veronica Mars cast members who will be making appearances in Ryan Hansen and Rob Thomas' planned web series Play It Again, Dick. The digital show will have the tone of Party Down and star Ryan Hansen as a fictional version of himself, working to get a Dick spinoff. Joining him are Kristen Bell, Jason Dohring, Enrico Colantoni, Percy Daggs III, Daran Norris, Francis Capra, Kyle Gallner, Christopher B. Duncan, Ryan Devlin, Chris Lowell, Ken Marino, Amanda Noret and Lisa Thornhill. Not included on the list are Tina Majorino (Mac) and Teddy Dunn (Duncan).
It's unclear how prominently these actors will be featured in the 8-episode web series, but in terms of who's playing who, you'd think that would be obvious if you know which actors play which characters in the original UPN/CW series and -- in most cases -- the movie that followed. But this is where the situation gets tricky, because this is a series about a series, so, like Hansen, some of the actors will be playing themselves. Some will only be reprising their original characters. Some will be doing both, and in one case, an actor will be playing a role they someone else played in the original series.
Kristen Bell (Veronica Mars), Jason Dohring (Logan Echolls), Enrico Colantoni (Keith Mars), Percy Daggs III (Wallace Fennel), Daran Norris (Cliff McCormack), Francis Capra (Eli Navarro), Kyle Gallner (Beaver "My name is Cassidy" Casablancas) and Christopher B. Duncan (Clarence Wiedman) will all be playing both their original characters, and themselves. That's particularly interesting in the case of Gallner -- Veronica Mars spoiler alert! -- because Beaver died at the end of Season 2. So how he might be factored in as a character in the Dick show, we can only guess. But since Cassidy was Dick's little brother, it makes sense that Gallner is around either way.
Chris Lowell and Ken Marino are only playing themselves in Play It Again, Dick. So, no Piz or Vinnie Van Lowe in this Dick series, I guess. Amanda Norret (Madison Sinclair) and Lisa Thornhill (Celest Kane) will only be playing their original characters in the series, and not playing themselves.
Finally, remember the shady Mercer Hayes from Season 3? He won't be back, but the actor who played him will... as someone else. Ryan Devlin will be playing the role of Duncan Kane (and also Ryan Devlin). It's disappointing that Teddy Dunn isn't reprising the role, but kind of funny that another Veronica Mars actor will. And now I'm dream-casting James Jordan in this series. The actor played Lucky in Season 2 and then was cast again in Season 3 as a completely different character, Tim Foyle.
Buzzfeed says filming is completed on the web series, so hopefully we'll see it pop up online on CW Seed soon.
Kelly joined CinemaBlend as a freelance TV news writer in 2006 and went on to serve as the site's TV Editor before moving over to other roles on the site. At present, she's an Assistant Managing Editor who spends much of her time brainstorming and editing feature content on the site.
Your Daily Blend of Entertainment News
Thank you for signing up to CinemaBlend. You will receive a verification email shortly.
There was a problem. Please refresh the page and try again.