The Walking Dead: Why Negan Is As Important As Rick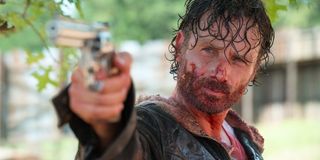 A lot has been happening on The Walking Dead in the second half of Season 6, but the biggest character is one who hasn't even appeared yet: Negan. We've been hearing about Negan more and more as the episodes pass, and even those of us who might not have known about his iconic comic moment would be able to tell that this guy is majorly bad news. The perfect actor had to be chosen for a character who is casting a shadow before he even shows up on screen. According to Andrew Lincoln, Negan is just as important as Rick because Negan represents another extreme as a leader that works all too well.
It's encouraging to hear Andrew Lincoln speak so highly of Negan's character in his chat with EW. A hero is always only as good as his villain is bad, and expectations are very high for Negan. Jeffrey Dean Morgan's casting was promising from the very beginning based on his past roles. Additionally, showrunner Scott Gimple's recent promise that Morgan's smile is Negan's smile indicates that we probably won't have too much trouble suspending our disbelief about the charismatic psychopath waiting for us in the Season 6 finale.
The show has been building toward a new big bad ever since Daryl encountered Dwight in the forest in the first half of Season 6, and members of the Walking Dead team have been promising an especially dark and gruesome end to the second half. Given that the trailer for the finale has given us a glimpse of Negan's weapon of choice looking ready for a swing, it seems likely that Negan hasn't been undersold. Frankly, it's been weeks since I've been able to figure out if I'm excited or terrified for Negan's first appearance. If that's what The Walking Dead is going for, then kudos to the show.
The Walking Dead on AMC has departed from the comics in some very big ways over the years, so we can only guess at what might be in store for the good guys when Negan makes his big entrance. He won't be able to drop as many F-bombs on screen as he would on the page, but he doesn't carry a baseball bat wrapped with barbed wire just for the fun of it. Andrew Lincoln may be doffing his hat to Jeffrey Dean Mogan, but odds are looking pretty good that somebody is going to be doffing their head to Negan. Negan will be as important as Rick, but not quite so reasonable.
The Season 6 finale of The Walking Dead will air on AMC at 9 p.m. ET on April 3. For a look ahead at what's next, check out our breakdown of what we know so far about Season 7.
Resident of One Chicago, Bachelor Nation, and Cleveland. Has opinions about crossovers, Star Wars, and superheroes. Will not time travel.
Your Daily Blend of Entertainment News
Thank you for signing up to CinemaBlend. You will receive a verification email shortly.
There was a problem. Please refresh the page and try again.