Watch Elektra Kick Ass In New Daredevil Promo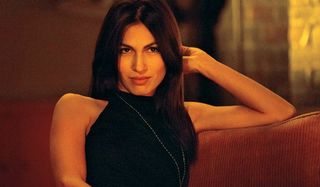 Marvel's Daredevil drama on Netflix hit all the right notes with its debut season last year, and, with less than a month until Season 2 hits the streaming giant, the fans can't wait for any little glimpse they get of the new season. Well, we have some good news. You can now take a look at new addition Elektra in full badass mode.
Oh. Yes, please. This short promotional clip was added to the official Netflix YouTube page, and it does, in fact, give us a much better look at the extent of Elektra's fighting skills. We hear a gunshot at the beginning as the camera pans over the destroyed bodies of previous criminals who've been dispatched by Elektra. Then we see her fighting one lone assailant, most likely the one who fired off a shot and tried to take her out just a few seconds earlier. It isn't long before she takes the sorry, well-dressed thug out with a quick one/two strike from her dual sai blades.
We also get a look at the most important part of anything that deals with super powered people: the costume. Elektra is sporting her trademark red duds, but she's blissfully more fully dressed than usual. Her cool, blood red uniform is pretty basic; it's without a lot of straps, zippers, fringe and other things that could flop around and get in the way of a vigorous ass kicking session. I like that, as with what Daredevil wore for most of the first season, it looks easily home made. I mean, she's wearing a tank top, some tight pants, a little fanny pack/utility belt and a chic red bandana that keeps her identity somewhat hidden. That's easy enough to put together in one afternoon of shopping.
And, when you're a fighting machine like Elektra, you really don't need a lot of bells and whistles in the costume department. Her history in the comics sets her up as the daughter of a Greek ambassador with a slightly tortured history (well, that's a given, really). She began studying martial arts as an adolescent and became extremely well versed in the fighting arts of China, Japan and Thailand. She's highly skilled with katanas, shuriken and other weapons, and performs at a ridiculously high level of athleticism.
Aside from being a woman from Matt Murdock's college days who comes back into his life, we don't know much about the version of Elektra, played by Elodie Yung, who will show up on Daredevil. Her comic counterpart has been known to have the power to mesmerize people, use mind control temporarily and even have low-level telepathy, though, so we could be in for more than a sexy, battling badass in red. Daredevil's gonna have his hands full on March 18, when the whole second season of Daredevil hits Netflix.
Bachelor Nation, Gilmore Girl; will Vulcan nerve pinch pretty much anyone if prompted with cheese...Yes, even Jamie Fraser.
Your Daily Blend of Entertainment News
Thank you for signing up to CinemaBlend. You will receive a verification email shortly.
There was a problem. Please refresh the page and try again.