Watch Kanye Go Full Kanye During A Rant On Ellen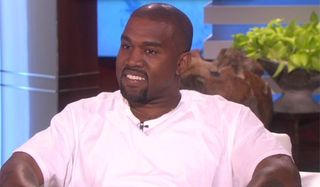 Kanye West has made a reputation for himself by being outspoken on social media and via other formats. This week, he headed to The Ellen Show, where the daytime talk show host asked him about this particular behavior. He responded in an 8-minute rant filled with nods to Walt Disney and Picasso before ending with commentary about how he needs to be like Michael Jackson in order to make the world--and especially the world of fashion--a better place. We can't make this stuff up. Give it a watch, below.
Let me start by saying that Kanye West's heart seems to be in the right place. He talks for a while about how his mom's position as the first black female chair of the English department at Chicago State University really influenced him growing up. He says he was raised to make a difference and that's why he asked Mark Zuckerberg for $53 million in that twitter debacle a few weeks ago.
That part, at least is pretty coherent, but there's so much of this video that is straight up an earful of insanity. Kanye West tells Ellen he isn't interested in thinking, asking her, "What's the point." He then contradicts himself by thinking out loud a lot. He "has ideas" that will make "the human race existence" better. Eventually, he talks about how people these days aren't really limited to one art medium. Instead, he cares about people and he puts that into his music but namely his fashion? I'm not really even sure exactly where he is going with that entire section of his rant. There are also some comments about working with Payless and how his Payless deal will help solve bullying, too. If you don't have eight minutes to devote to Kanye doing Kanye, this is sort-of the definitive quote:
As I noted prior, there are a lot of germs of ideas in this rant but they don't really extrapolate out into completely cohesive thoughts. It's all very Kanye doing Kanye and it reminds me of a few of the things he said when he was freaking out on the set of Saturday Night Live just a short time ago. At the end of the video, he apologizes for "the realness."
I guess that's something.
Amazing Race & Top Chef superfan with a pinch of Disney fairy dust thrown in. If you've created a rom-com I've probably watched it.
Your Daily Blend of Entertainment News
Thank you for signing up to CinemaBlend. You will receive a verification email shortly.
There was a problem. Please refresh the page and try again.