The West Wing's Allison Janney To Play Anna Faris' Mom In Chuck Lorre's Comedy Pilot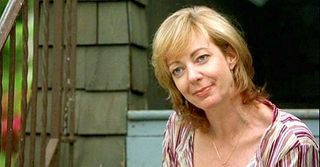 Chuck Lorre's new CBS comedy pilot has cast the second of the two female leads. The West Wing star Allison Janney will be joining the pilot playing the mother of already-cast Anna Faris. The project nabbed the sought-after Janney out from under three other pilots who were courting her for a role.
Mom focuses on Christy (Faris), a single mom who is newly out of rehab and moves back in with her own mother (Janney) as she attempts to start a new, sober life. Unfortunately, her mother seems to be at the root of many of her problems and wasn't the most maternal person when she was growing up. Lorre, who is the man behind two of the highest rated comedies on TV, Two and a Half Men and The Big Bang Theory, is aiming for a another hit with a very funny and talented cast. Between Lorre and the cast, the pilot is looking like a strong candidate to go to series.
Janney has recently done a few films including Touchy Feely and The Way, Way Back both of which just premiered at Sundance, Deadline notes. She was also recently cast in the fairy-tale fantasy movie Into the Woods which is also rumored to have Meryl Streep on board. She is best known, however, for her years on The West Wing. She has done plenty of guest appearances on TV since then, and starred in the doomed Matthew Perry comedy Mr. Sunshine as well. Hopefully this new pilot will be a stronger return to television for a talented actress.
Your Daily Blend of Entertainment News
Thank you for signing up to CinemaBlend. You will receive a verification email shortly.
There was a problem. Please refresh the page and try again.