Witches Of East End Review: Lifetime's Bewitching New Drama Premieres Sunday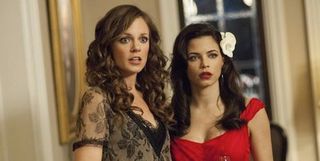 It's no secret that Lifetime aims their content toward a largely female audience, but just as no two women are exactly alike, it stands to reason that Lifetime would aim for diversity with regards to their scripted content. From Army Wives to Drop Dead Diva, Devious Maids and The Client List, none of these series is much like the others, with the exception of their mutual focus on women. With that in mind, The Witches of East End seems like the natural next step for Lifetime, as it puts women front and center but takes a different approach with its story. Female-skewed and bursting with drama and magic from the very start, Witches of East End may not be like anything else Lifetime has going on right now, but tonally, it should be a good fit for the network nonetheless.
Written by Maggie Friedman, Witches of East End's pilot is directed by someone who knows a thing or two about telling female-focused stories. Director Mark Waters' credits include Mean Girls and the upcoming feature adaptation of Richelle Mead's Vampire Academy, the latter of which also gives him some experience with adaptations and supernatural-focused stories. In the case of Witches of East End, the pilot introduces us to two sets of sisters, all witches. Julia Ormand plays Joanna, a free-spirited artist and mother of two grown daughters Freya (Jenna Dewan Tatum) and Ingrid (Rachel Boston). Joanna hasn't told Freya and Ingrid that they're witches, but that revelation seems eminent from the start, especially when Joanna's sister Wendy (Madchen Amick) shows up --after a 100-year absence from Joanna's life -- and delivers a warning that affects Freya and Ingrid's future.
The pilot episode sets up the characters and their backgrounds as we learn that Freya is a wild child who's looking to settle down with the man of her dreams, Dash Gardiner (Eric Winter), though that has its challenges. Dash is rich, gorgeous and he wants to marry Freya, but his mother (Virginia Madsen) doesn't think much of Freya and takes the passive aggressive approach at expressing her disapproval. That woman sure knows how to deliver a backhanded compliment.
Freya's sister Ingrid, meanwhile, is a timid librarian who has studied witchcraft, though she has no idea how closely tied she is to the magic. And that's where the story gets going, as strange things begin to happen to the characters. While Joanna tries to deal with the news her sister Wendy has brought her, Freya finds herself irresistibly drawn to her fiancé Dash's mysterious brother Killian (Daniel DiTomasso). And by irresistibly I mean an intensely magnetic attraction. Ingrid, meanwhile, finds herself dabbling in witchcraft in an effort to help a friend who's struggling with fertility issues. Buffy the Vampire Slayer's Tom Lenk factors into that part of the story, and I really hope we'll be seeing more of him as the series goes on. It's evident even without Wendy's warning that these two young women are on the brink of discovering the truth about their nature, but with their aunt's return, the process seems to be moving much faster.
One of the most intriguing aspects of the pilot is the background story that sets up Freya and Ingrid's existence. I won't get into spoilers there, as I think it's worth seeing play out through Joanna's flashbacks, but it sets up the notion that their fate is sealed, though we're obviously meant to hope that things can be changed. The series seems set up to center on Ingrid and Freya, as the two budding witches who may be destined for a dark fate, but I'm just as interested in getting to know Joanna and Wendy better, as it's evident that both of them have a long history and probably some interesting stories to tell. And it's also well worth noting that Ormand and Amick are great in their respective roles, so I'm hoping the series divides its attention somewhat equally between all four women.
With romance, magic, some soapy drama and mystery worked into the story, Witches of East End seems poised to bewitch its audience as it gets off to a fun and dramatic start. I won't go as far as to say that the first episode has me completely under this series' spell, but I'm intrigued enough to tune in for more and hopeful to be drawn in more and more as we get to know these characters better and see what's in store.

Witches of East End premieres Sunday, October 6 at 10:00 p.m. ET on Lifetime.
Your Daily Blend of Entertainment News
Assistant Managing Editor
Kelly joined CinemaBlend as a freelance TV news writer in 2006 and went on to serve as the site's TV Editor before moving over to other roles on the site. At present, she's an Assistant Managing Editor who spends much of her time brainstorming and editing feature content on the site.