After Critiquing The View, Rosie O'Donnell Explains Why She Thinks Her Own Talk Show Worked So Well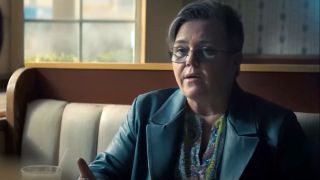 (Image credit: Showtime)
Rosie O'Donnell has had a wide-ranging career. While she's a successful actress and comedian, she also served as a co-host on The View for a short while and had her own talk show, The Rosie O'Donnell Show. Both of those hosting stints ended a while ago, and O'Donnell seems to have a lot more reverence for her time serving on own talk show than the former program. After recently critiquing ABC's daytime staple, the star opened up what she believes made her own series work so well.
During an interview with ET, the A League of Their Own actress talked about her current career moves and reflected on some of her past endeavors. She revealed how much fun she had hosting her daytime show and shared her pride over the work she and her colleagues did. She said:
Having a great working environment is essential to enjoying the work you do. It's good to hear that this is something she really valued and implemented while leading her eponymous talk show. She went on to describe the measures she took to keep her employees happy, saying:
The comedian sounds like she was a great boss, and really made an effort to ensure that her show was a great place to work. Backstage environments for talk shows have been major topics of conversation over the past few years. Staffers on Ellen spoke out about inadequate work conditions on the beloved daytime show back in 2020. And earlier this month, The Kelly Clarkson Show's crew made claims of a "traumatizing" work culture. While the Harriet the Spy alum's show premiered in the late '90s and hasn't been on TV for a while, it still seems to stand as a shining example of how to conduct business.
In recent weeks, the Sleepless in Seattle actress opened up about her negative experiences working on The View. She famously had a feud with co-host Elizabeth Hasselback and also clashed with Whoopi Goldberg. Former host Meghan McCain, who's also been candid about her time on the program, supported what Rosie O'Donnell had to say about dynamics behind, and in front of the camera. O'Donnell likely won't be returning to ABC show anytime soon though, based on her comments, it seems she's content with where she is and what she was able to accomplish in the talk show space.
Fans can catch Rosie O'Donnell's latest project, Rosie's Theater Kids, which is a documentary about inspiring the next generation of performers that's available to stream with a Paramount+ subscription. And of course, those who tune in faithfully for The View can check it out weekdays at 11 p.m. ET as part of the 2023 TV schedule.
Your Daily Blend of Entertainment News
Writer, podcaster, CinemaBlend contributor, film and television nerd, enthusiastic person. Hoping to bring undying passion for storytelling to CinemaBlend.