All The Masked Singer Season 7 Eliminations, Updated Weekly
Here are all the eliminations of Season 7 so far.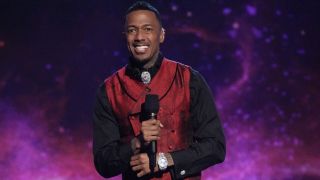 (Image credit: Fox)
Warning! The following contains spoilers for The Masked Singer's Season 7 eliminations. Read at your own risk!
The Masked Singer Season 7 is already off to a hot start, and once again fans are ready to watch masked celebrities duke it out for the honor of winning the Golden Mask trophy. It's fierce competition from the contestants' standpoint, and as we've seen in past seasons, it's never a sure thing who is and who isn't going home each week.
Contestants spend so long in their masks that it's easy to forget who's actually underneath in the weeks after the reveal. This is a list that'll track the action as it plays out in The Masked Singer Season 7, and give a week-by-week breakdown of who was eliminated and who the contestant sent home turned out to be. There will be only one winner, but to get to them, we must run through all the eliminated singers first.
First Elimination: Duff Goldman (McTerrier)
If you're someone who watches Food Network and loves baking shows, you probably know Duff Goldman well. Goldman is a presence on shows like Holiday Baking Championship, Ace of Cakes, and of course Buddy vs. Duff. Goldman has proven that he's a force to be reckoned with in the kitchen without a doubt, but The Masked Singer showed those skills don't translate well to singing or coordination (and he's certainly no Yeti).
In truth, Duff Goldman's singing wasn't too bad. The Masked Singer's opening round had some stiff competition, and Goldman just got the bad luck of being the least-talented one of the bunch at the end of the night. What's more notable about his performance is that Goldman took a few falls on stage, and as a result lost his entire mask at the end of the performance. He managed to hide his face long enough for assistants to get it back on, though, in hindsight, that effort didn't do him much good considering he was unmasked not long after.
Second Elimination: Joe Buck (Ram)
If you're a fan of professional sports, you likely know Joe Buck well. The sports commentator who followed in his father Jack's footsteps is all over NFL and MLB coverage these days. The clues put the panel on the right path with sports, though many assumed he's an athlete. Of course, the Hamlet x Macbeth clue signaled that he knew something about a "play by play", and learning the trade from his father was a great giveaway as well. Also, he said "small young Buck" in his clue package, which in hindsight, felt like an obvious clue.
Joe Buck impressed The Masked Singer's panel in his first week with his rendition of "I Want You To Want Me" by Cheap Trick, but that love was apparently short-lived. Even though his performance of "Learn To Fly" by Foo Fighters had all the confidence that Ram showed in previous weeks, the singing wasn't enough for the audience to vote him through to the next round.
Third Elimination: Jorge Garcia (Cyclops)
Actor Jorge Garcia appeared on shows like Hawaii Five-0 and Once Upon A Time in his career, though most people remember him for his role as Hurley on Lost. Garcia is still kicking around television and film these days and even had time to be a part of a project with Weezer. Of course, when I mention him being "a part of a project" I mean that the band used a picture of him for an album and titled it after his Lost character, but he was still involved all the same.
While Garcia might have more musical street cred than many other contestants on The Masked Singer, his singing wasn't on par with the rest. His deep voice served him well on songs by Elvis Presley and Creed, but it could only take him so far. He didn't have a chance during the double-elimination and was the first of two taken out on his night.
Fourth Elimination: Jordan Mailata (Thingamabob)
Jordan Mailata might not be a name that all fans of The Masked Singer know, but if you're a Philadelphia Eagles fan, you might've known he was on the show from the jump. The rugby player-turned-NFL lineman has a lot of clips of himself singing online, so it might've been easier for his fans to sniff him out as Thingamabob.
Thingamabob had the skills to go far in this competition but was unlucky during The Masked Singer's double elimination night. He missed out on advancing after losing to Firefly, who definitely earned her spot. With that said, I think people will look back and realize Jordan Mailata could've gone a lot further in this competition.
Fifth Elimination: Christie Brinkley (Lemur)
World-renowned model, actress, and entrepreneur Christie Brinkley spent her career as the face of many brands, so it had to be strange to do a gig where she wasn't seen at all. When she's not on The Masked Singer, Brinkley also works as a philanthropist in various fields and is a known ally for animals and wildlife protection. She also occasionally appears on television as an actress, as evidenced by her great cameo in Parks and Recreation.
Christie Brinkley's run as Lemur didn't last long, as she was the first unmasked of the new group. Brinkley tried to wow the crowd with her rendition of Carole King's "I Feel The Earth Move," but that wasn't enough to move the votes in her direction to stay past the opening round.
Sixth Elimination: Penn Jillette & Teller (Hydra)
Famed magic duo Penn & Teller have been iconic on the magician scene for decades and found widespread success in Las Vegas as well as on television over the years. The two are known for their illusions as well as their skepticism on a wide variety of topics, as evidenced by their shows Penn & Teller: Bullshit! and Penn & Teller: Fool Us.
At first, Penn & Teller worked a little magic on the Masked Singer stage and even had Ken Jeong briefly fooled into thinking that he was getting his dream of seeing the Three Amigos (Steve Martin, Chevy Chase, and Martin Short) on the Fox show. It became more clear in subsequent performances that wasn't who was performing, but the magic duo did manage to at least keep up the illusion that the Hydra was three people and not two. No doubt this was thanks to Teller's voice, though whether he was actually ever singing in there may remain a mystery!
Seventh Elimination: Dog The Bounty Hunter (Armadillo)
Since 2004, Duane Chapman – better known as Dog the Bounty Hunter – has entertained people with his shows about the pursuit of criminals. His trademark long hair and sunglasses make it hard not to recognize him, and even masked up as Armadillo, he wasn't able to fool panelist Jenny McCarthy.
Dog the Bounty Hunter's run on The Masked Singer didn't go too far in trying to hide his identity, as he kicked things off with The Bobby Fuller Four's "I Fought The Law." Not exactly the best song choice for a professional bounty hunter trying to keep a low profile, but I commend him for making it as far as he did all the same.
Eighth Elimination: Jennifer Holliday (Teddy Bear)
Broadway actress and singer Jennifer Holliday might be most known for her work on Dreamgirls, or Your Arms Too Short To Box With God. She has had sporadic television appearances over the years, though most audiences will likely remember her voice above all else. Her Grammy and Tony wins solidify her as one of the biggest talents of The Masked Singer Season 7, musically speaking.
Jennifer Holliday was the next out on The Masked Singer. Her Teddy Bear had to battle it out against Ringmaster, and as good as Holliday was, she just couldn't compete with the contestant who appears to be the frontrunner in Season 7. She joins the list of many former competitors on the Fox show who were eliminated too soon, and maybe someone who deserves another chance.
Ninth Elimination: Rudy Giuliani (Jack In The Box)
Rudy Giuliani is a name of note in the world of politics. In addition to his past political accolades, Giuliani is most commonly associated these days with the administration of former President Donald Trump. His appearance on The Masked Singer was surprising, especially considering some of the political controversy attached to him in recent years.
News of Rudy Giuliani's elimination as Jack In The Box made headlines before the actual episode. Reports stated that not long after the unmasking, Robin Thicke and Ken Jeong left the stage. That moment appeared at the end of the episode and was preceded by Jeong's crossed arms and scowl suggesting that he wasn't too pleased to see Giuliani on The Masked Singer. This moment will definitely go down as one of the most awkward moments in the show's history.
Tenth Elimination: Kirstie Alley (Baby Mammoth)
Actress Kirstie Alley has bounced around various television shows and movies for decades, with notable appearances in everything from Star Trek II: The Wrath Of Khan to The Goldbergs. Others might know her from the Jenny Craig weight loss program, and the tons of commercials she did for it.
As Baby Mammoth, Kirstie Alley had an okay run. I think performing in the same group as Dog the Bounty Hunter definitely gave her a leg up on surviving the first round of her group, but the talent that remained was too much for her to overcome. With that said, she more than made up for anything she lacked in singing ability with her comedy, and I don't think I'll ever forget her request to "poop on the stage."
Eleventh Elimination: Shaggy (Space Bunny)
Grammy Award-winning singer Shaggy is celebrated for his music, and his unmistakable voice. His songs like "Angel'' and "It Wasn't Me" are pop classics, and ones that I'm sure many fans of The Masked Singer still know to this day. Well, the ones over the age of 30 anyway, though with new music on the way, he might soon be a big name for new generations.
As Space Bunny, Shaggy had some excellent song choices that played to his strengths as a singer. The only real reason Shaggy didn't see the final rounds is due to the excessive talent of The Prince, who just couldn't be bested in the double-elimination round. In another season Shaggy could've won, but it wasn't in the cards.
Twelfth Elimination: En Vogue (Queen Cobras)
When it comes to talking about some of the more memorable women's groups of the 1990s, En Vogue is definitely in the discussion. Their songs "Hold On" and "My Lovin (You're Never Gonna Get It)" are classics to this day and there can be little debate on their place among the best women's pop groups of all time.
Queen Cobra caused a bit of confusion upon arrival, as it wasn't entirely clear to the panel whether they were judging one or multiple contestants. All was made clear as things progressed, and much like Shaggy, it was easy to see Queen Cobras in the final stages of the competition. It's a credit to Prince that he survived, and knocked out four terrific singers in one night.
Thirteenth Elimination - Cheyenne Jackson (Prince)
Cheyenne Jackson is no stranger to song or stage or even the Fox network. He's currently on Call Me Kat and even had a small role in Glee back in the day. Jackson has had no shortage of roles in Hollywood in recent years, so appearing on The Masked Singer is just another feather in his cap.
Much like the other finalists, Prince emerged as a strong competitor in The Masked Singer from the very start. In fact, he was my dark horse candidate to win, but obviously, that didn't pan out. Regardless, I'd say that third place is plenty commendable in Season 7, especially considering the company he was in.
Fourteenth Elimination - Hayley Orrantia (Ringmaster)
Hayley Orrantia is a singer and songwriter, though many might be most familiar with her work as an actress as Erica on The Goldbergs. Obviously, she might get a little more attention for her singing abilities now that she has rocked the stage on The Masked Singer Season 7 and finished as runner-up.
As Ringmaster, Hayley Orrantia looked like a clear frontrunner in the competition from her very first performance. She ultimately didn't win Season 7, though I think it's safe to say that it was anyone's game to the very end. Finishing runner-up isn't bad on The Masked Singer, especially considering who she lost to.
Who Won The Masked Singer Season 7?
With every contestant out of the competition, Firefly stood tall as the winner of The Masked Singer Season 7. The mask came off to reveal none other than singer, actress, and all-around icon Teyana Taylor. Taylor's singing skills carried her to the end, and this win paired with her husband Iman Shumpert's victory on Dancing With The Stars makes them a power couple for reality competition television. If we ever get a show where a couple has to sing and dance, they'd obviously be favorites to dominate. In any case, she outlasted a lot of talent to get that win, so she deserves all the credit in the world for pulling it off.
The Masked Singer Season 7 is finished at Fox, and the wait is on for another exciting season! Hopefully Season 8 can deliver just as many thrills as this season, and give us another rousing competition.
Your Daily Blend of Entertainment News
Mick likes good television, but also reality television. He grew up on Star Wars, DC, Marvel, and pro wrestling and loves to discuss and dissect most of it. He's been writing online for over a decade and never dreamed he'd be in the position he is today.