Euphoria Stars On Bringing That Shirtless Theatre Dance To Life In Front Of An Audience
Euphoria gives us the second-most iconic rendition of "Holding out for a Hero."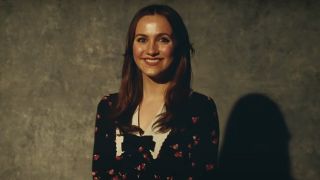 (Image credit: HBO)
Warning: Peruse at your own risk if you haven't watched Episode 7 of Euphoria Season 2.
Euphoria has been making headlines ever since it premiered in 2019. Whether it's DARE calling out the hard drug use, insanely graphic nudity, or long monologues with prosthetic penises, there's always something to tweet about when it comes to Sam Levinson's Emmy-winning HBO series. But the latest episode featured a first for Euphoria: a shirtless dance number that put Lexi (Maude Apatow), Ethan (Austin Abrams), and Nate (Jacob Elordi) front and center.
In an interview with Variety, Maude Apatow chatted about bringing that acrobatic choreography to life in front of a live audience, and how that affected the filming process. She said:
All season long, Lexi (Maude Apatow) has been teasing a play about her life, and viewers were finally treated to that autobiographical staging on the most recent episode of Euphoria. Entitled 'Our Life,' Lexi's show portrayed a thinly veiled retelling of her social circle's drama, including the saga of Maddy (Alexa Demie) and star quarterback Nate.
Maude Apatow's character lampooned the toxic masculinity of her high school's football culture in a dance routine that made Nate storm out of the theater. The scene in question featured Austin Abrams' Ethan and Nate dancing to Bonnie Tyler's "Holding Out for a Hero" wearing nothing but gold lamé football pants. He was supported by an equally shirtless chorus of jocks who performed choreography that can only be described as gleefully homoerotic, and was truly a marvelous sight to behold.
As the audience erupted into laughter, Nate was all too aware that he was the one being made fun of, and charged out of the auditorium. The character may have taken umbrage at Lexi's play, but Austin Abrams had the time of his life filming the jaw-dropping sequence. He said:
As any stage actor can attest, there's simply nothing like live theatre. There is an energy that can't be recreated on a film set, and Ethan's in-show performance was only enhanced by the real-time reactions of the audience members. In fact, it's partially the audience's raucous laughter that infuriated Nate to the point of leaving. (This is definitely not a Nate-apologist account, but if I was being put on blast in front of the whole school, I would have walked out, too,)
Nate's reaction aside, it doesn't change the fact that Lexi and Ethan's dance number was indubitably iconic. It also marked a season-high for a show that prides itself on producing viral moments. (Cassie in the bathtub, anyone?) The season finale will air this Sunday, and it will presumably reveal the fallout of Lexi's tell-all account, the long-awaited showdown between Cassie and Maddy, and, if we're lucky, another song-and-dance routine.
You can watch Season 2 of Euphoria now with your HBO Max subscription. The Season 2 finale will air on Sunday, February 27 at 8 pm on HBO. Team Fexi, our fingers are crossed. While you wait, you can check out more upcoming TV releases scheduled to drop in 2022.
Your Daily Blend of Entertainment News
Actor, singer, and occasional dancer. Likes: fashion, books, old buildings. Dislikes: cilantro, the NJ Turnpike, sneaker wedges.