Fire Country Showrunner Explains The Importance Of The Real-Life Firefighter Program That Inspired The CBS Show
The program in Fire Country is based on a real initiative.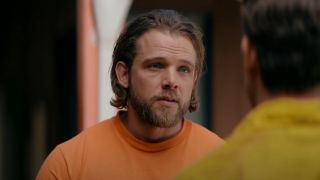 (Image credit: CBS)
CBS has joined the ranks of networks with shows about firefighters with Fire County. However, this new addition to the 2022 TV schedule is quite different from other shows like Chicago Fire for many reasons. One of the big ones is it tells the story of a town in Northern California that is home to a fire camp. These camps give incarcerated people an opportunity to transition out of prison and into the real world a little easier. The showrunner has also explained the importance of these programs that inspired the new CBS drama.
The show is actually based on the hometown of Max Thieriot, the lead of the Fire Country cast. The actor, who's also still giving viewers emotional moments on SEAL Team, wanted to create a show that highlighted the stories of his hometown and the massive wildfires that are common in that region, according to TV Guide. This program in Thieriot's old stomping grounds sees inmates working on fires alongside the other firefighters. Tia Napolitano, the showrunner, explained to the publication that she hadn't really seen a show like this before on television:
In the article, it's explained that the real inmate program provides people a second chance that they might not get otherwise. Transitioning out of the prison system is not easy, and this gives them a chance to work and earn a bit of money before fully re-entering society. Along these lines Napolitano said it's important to show these stories on TV, the producer said:
In the first two episodes, viewers have seen the complexities of the program. For example, in Episode 2, the inmates were working to put out a fire at a recreation center. However, when they need to evacuate the kids they couldn't take the inmates with them because they aren't allowed to be in the same vehicle.
With what we know about Fire Country I'm sure we'll see more of the complexities of running a program like this, as well as the payoffs of it. I'm curious to see how the relationships between the other inmates and the fire department flourish in the upcoming episodes. To see how these relationships develop you can check out Fire Country on Fridays at 9 p.m. on CBS or with a Paramount+ subscription.
Riley Utley is a Weekend Editor at CinemaBlend. She spent many years working in local journalism across the country writing about art, news and sports. One of her favorite films is When Harry Met Sally and she walks around constantly quoting Ted Lasso.
Your Daily Blend of Entertainment News
Thank you for signing up to CinemaBlend. You will receive a verification email shortly.
There was a problem. Please refresh the page and try again.