Jennifer Grey Completely Transformed For Her New Role And It Turns Out Jamie Lee Curtis Had A Lot To Do With That
Jamie Lee Curtis' tip really did help Jennifer Grey transform.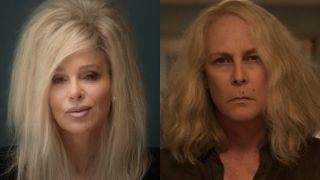 (Image credit: Lifetime and Universal)
Jennifer Grey is making her mark on the 2023 TV schedule by way of the Lifetime movie Gwen Shamblin: Starving for Salvation, however, you might not realize it's her at first glance. Donning multiple different blonde wigs and caked-on makeup, the Dirty Dancing star looks totally different as the religious leader and Christian diet guru, and it turns out Jamie Lee Curtis had a lot to do with her incredible transformation.
Grey opened up about turning into Gwen Shamblin, while talking about the Lifetime biopic with ET, and noted that her old friend really helped her transform. The actress made it clear when she was considering the role she needed the best wigmaker in the game to take on the character, and Curtis was able to recommend the best of the best due to her work on the Halloween movies. Grey explained:
Based on the trailer alone, and looking back at Curtis' different looks well as Ana de Armas' transformation in Blonde, hiring Rob Pickens seemed to have truly, truly helped Grey transform into this real woman.
Grey plays Shamblin, who is known for her controversial practices as a religious leader and diet guru and died in a tragic accident in 2021. The actress behind the titular role explained she only agreed to the role because they let her have the resources to do a full-on transformation. She explained that Shamblin's hair is directly related to her power, saying:
Grey explained that the wigs were important, and she knew they'd be expensive. However, she said if they gave her "some cheap wig" it wouldn't have worked. Well, thank goodness she and the Everything Everywhere All at Once star are longtime friends, and some of Curtis' best movies are the Halloween movies, because she was able to provide great advice for her pal. Not to mention in EEAAO Curtis also had a great transformation and she earned her first Oscar nomination for that character, so Grey was in good hands when it came to figuring out how to completely transform.
Based on the trailer alone it's clear Grey's commitment to her transformation with both the wigs and her accent has paid off, because she looks totally different, and like she was completely immersed in the role.
While Grey is best known for starring in one of the best dance movies, maybe her new role as Shamblin will end up as one of her most memorable transformations.
To watch Grey's transformation in Gwen Shamblin, and to see the impact Curtis' wig recommendation had on the film, you can watch Gwen Shamblin: Starving for Salvation on Lifetime.
Your Daily Blend of Entertainment News
Riley Utley is a Weekend Editor at CinemaBlend. She spent many years working in local journalism across the country writing about art, news and sports. One of her favorite films is When Harry Met Sally and she walks around constantly quoting Ted Lasso.