Kelly Clarkson Recalls The Time She Was Nearly Involved In An Epic Wardrobe Malfunction Onstage While Going Commando
Never underestimate the challenge of a quick change.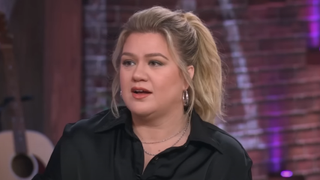 (Image credit: The Kelly Clarkson Show)
Anything can happen during a live performance, it's what makes them so exhilarating. However, sometimes those unexpected moments are mishaps and can seriously affect the show. Well, Kelly Clarkson reflected on this fact of live music with fellow country queen Shania Twain as they discussed quick changes and wardrobe malfunctions. This led to the American Idol alum revealing one malfunction that was almost catastrophic considering she had been performing commando.
Clarkson and Twian lamented about the struggles of quick changes, and how hard it is to rock multiple outfits during a given performance on The Kelly Clarkson Show. The "Stronger" singer explained she only did quick changes that were under two or three minutes while hosting the Billboard Awards. She also explained that she doesn't like them because something is bound to break, which led to her telling a story about one near mishap following a stressful quick change:
I'm so happy she caught it and avoided catastrophe because it would not have been a fun malfunction to deal with. However, I'm positive Clarkson would have handled it well considering she's a highly experienced performer and has an A+ sense of humor. So, while I'm sure it would have been incredibly embarrassing, considering the commando of it all, I'm also sure she would have found a way to deal with it. Luckily, she saved it before it became a problem, and was able to just continue as if nothing was wrong.
While Clarkson always talks to musicians about their common experiences in the industry, like discussing The Voice's new coach with Gwen Stefani, sometimes the challenges of the career come up. This time she and Twain were able to candidly discuss and laugh about on-stage mishaps with wardrobe, and in Twain's case horses. While the country star did talk about wardrobe malfunctions she also revealed a horse pooped on stage once, aptly saying that sometimes "shit happens."
The "Man! I Feel Like a Woman!" singer makes a good point, sometimes shit does happen, and you just have to roll with it. Wardrobe malfunctions are a prime example of dealing with this. For example, at this year's Critics Choice Awards Amanda Seyfried had to improvise after having a mishap with her gown, and she handled it like a champ. Alexandra Daddario also had a great fix for a malfunction, by posting an image of a nip slip, but instead of cutting the photo from the set completely, she drew a heart over the mishap instead and uploaded it.
While wardrobe malfunctions are the worst, these women handle them with grace, because the show must go on.
Both Clarkson and Twain will likely be performing more live in the upcoming year. The country icon is getting ready to release an album, which she posed nude for, so I guess you can't have a wardrobe malfunction when there's no wardrobe to worry about. Meanwhile, Clakson's show remains a constant on the 2023 TV schedule, and we'll likely also get to see her live again, hopefully without the wardrobe issues, as she's preparing to release new music.
Your Daily Blend of Entertainment News
Riley Utley is a Weekend Editor at CinemaBlend. She spent many years working in local journalism across the country writing about art, news and sports. One of her favorite films is When Harry Met Sally and she walks around constantly quoting Ted Lasso.