Oz: 6 Thoughts I Had While Rewatching The First Episode Of The HBO Series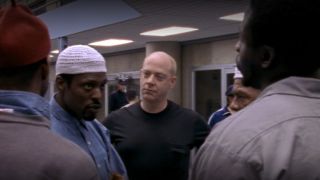 (Image credit: HBO)
I never had HBO growing up, but my best friend's parents were longtime subscribers. When it'd get too hot to play outside, and cartoons were no longer cutting it, we'd inevitably turn the TV to channel 5 and watch some random movie on HBO (more times than not, it was Indiana Jones and the Last Crusade). Between movies, there were trailers for shows I had never heard of before, including classic HBO shows like Oz, which looked like just some crazy prison show to 9-year-old me.
Years later, I randomly came across it on the now-defunct HBO Now, and decided to give it a watch. I was hooked, and watched the series over the course of a couple of months, before moving on with life (and less intense shows).
But with the show celebrating its 25th anniversary last year, and some of its stars being bigger than ever before, I decided to return to Oswald State Penitentiary. Here are my thoughts…
Augustus Hill's Fourth Wall Breaking Narration Makes Oz More Than Just A Normal Prison Drama
Though I had forgotten a lot of the specifics about the show in the decade-plus that separated my first and second viewings of Oz, I never forgot how Harold Perrineau's Augustus Hill would narrate each episode with outstanding monologues that would tackle various characters, situations, and themes that would play out over the course of the next hour. These sometimes long and poetic speeches help further separate Oz from other crime and prison dramas, and make a case for the HBO original series being something more like a loose Shakespeare adaptation than a show about prison sex and neo-nazis.
Another thing I love about the monologues is how the Perrineau's narrator is an enlightened version of his on-screen character, above the day-to-day drama and emotions of prison life.
Seeing The Beginning Of Tobias Beecher's Tortured Story On Oz Is So Heartbreaking
There are countless characters with tragic stories that play out over the course of Oz's six seasons, but few hold a candle to that of Lee Tergesen's Tobias Beecher. When he first enters Oswald State Penitentiary after killing a 9-year-old girl in a drunk driving accident, he is viewed as the everyman, someone with no prison skills or hard edge, but instead someone who is trying to quietly serve his time in hopes of getting out on parole in four years.
But after falling victim to J.K. Simmons' Vernon Schillinger (more on him next), the Aryan Brotherhood, and Chris Keller (a pre-Law & Order: SVU Christopher Meloni), Beecher is transformed into a product of the system, a shell of his former self. Watching the Oz pilot for the first time in years, I was immediately reminded of how far the once mild-mannered attorney fell.
Vernon Schillinger Is Still My Favorite J.K. Simmons Character
There are a lot of great J.K. Simmons movies and shows, but nothing, and I mean nothing, compares to Vernon Schillinger on Oz. Now, I'm not talking about his ideals or motivations, because, let's be honest, Vernon Schillinger is a Nazi scumbag who deserves everything bad that happens to him over the course of the show's six-season run. But -- and it's a big but here -- the way Simmons brings the character to life is a marvel of late '90s TV. The way he flips that switch from seemingly nice guy to irredeemable bully is masterful.
Going back and watching Oz, especially Schillinger's first interaction with Tobias Beecher, I almost forgot that this is the character that would later go on to make his cellmate's life a living hell and do everything in his power to make him another product of the prison system. Terence Fletcher (Simmons' Oscar-winning role in Whiplash) and Omni-Man on Invincible have nothing on Vernon.
Yeah, This Show Is Just As Violent And Unsettling As I Remember
One thing that people always seemed to talk about when Oz was first coming out on HBO way back when, was the level of violence featured in each episode. And while the pilot doesn't have the shocking scenes of grotesque carnage that would be prevalent later in the series, it is still as violent, and unsettling as I remember.
Rewatching the show with headphones (so my kids don't hear it), I was shocked by the visceral sounds of an inmate pounding his fists into the face of another in the shower, another fight in a bathroom stall, and later an injured inmate being suffocated in the hospital wing. Sure, we see more grotesque scenes in modern HBO shows, but remember, this was 1997, and Oz was breaking ground with its realistic depictions of human carnage.
I Still Think The Sopranos And The Wire Owe Oz A Lot For Their Success
When it comes to classic HBO crime dramas, The Sopranos and The Wire are usually the first and second shows that come to mind, and rightfully so. However, it's hard to imagine either of those shows coming to fruition without Oz coming first. And no, it's not just because some of the major stars of each of those shows started off as inmates or prison staff at Oswald State Penitentiary, though that does certainly help.
Oz broke new ground for the medium of TV, taking what shows like NYPD Blue were doing on broadcast and cable networks, and turning up the heat and adding a lot of spice. This isn't to say Oz is the better show, but considering how many of the show's stars would go on to have success on The Sopranos and The Wire (as well as Law & Order, Rescue Me, 30 Rock, Sons of Anarchy, and countless others) there's no denying the fact that Tom Fontana's prison drama is a very impactful series.
Oz Is One Of Those HBO Shows Where I Never Skip The Intro
As far as I'm concerned, the Oz intro is not only one of the best HBO has ever produced, but an all-time great for all of TV. The quick barrage of scenes depicting life in prison, someone getting "Oz" tattooed on the arm, the chaotic yet rhythmic percussion, the horn section, everything. I just never get enough of it, and in fact, it's one of the few HBO shows where I never skip the intro.
In case you were wondering, other HBO shows that get the "no skip intro" treatment from me include The Sopranos, The Wire, Six Feet Under, and Game of Thrones. In fact, I have probably watched each of those intros more than the shows themselves, and they're all some of my favorite series of all time.
These are just a few of the thoughts I had while visiting the "Emerald City" for the first time in years. Who knows, maybe I'll continue down the yellow brick road and go through all six seasons again with my HBO Max subscription, which also gives you access to some of the best new and returning shows on the 2023 TV schedule.
Stream Oz on HBO Max. (opens in new tab)
Your Daily Blend of Entertainment News
Philip grew up in Louisiana (not New Orleans) before moving to St. Louis after graduating from Louisiana State University-Shreveport. When he's not writing about movies or television, Philip can be found being chased by his three kids, telling his dogs to stop yelling at the mailman, or yelling about professional wrestling to his wife. If the stars properly align, he will talk about For Love Of The Game being the best baseball movie of all time.