See Portia De Rossi Surprise Ellen DeGeneres With A Sweet Vow Renewal (And Kris Jenner) During Di Rossi's Own Birthday Party
What a way to celebrate 14 years of marriage!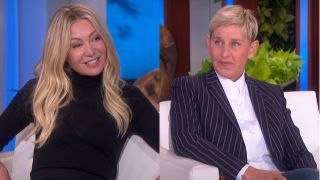 (Image credit: Warner Bros.)
In celebration of Portia De Rossi's birthday and 14 years of marriage, the actress decided to surprise her partner Ellen DeGeneres in the sweetest way by organizing a vow renewal ceremony. The Arrested Development alum gathered many of the couple's loved ones, including Kris Jenner, to celebrate this special occasion, and not only was it a loving moment, but the former talk show host also appeared to be extremely surprised by the gesture from her wife.
The video, which is cut together using clips from all their friends and family, shows the guests, the couples' loving speeches and the sweet ceremony officiated by the matriarch of the Kardashian family. Check it out:
Jenner gushed about her pals and all the time she and her partner Corey Gamble have spent with them. She also said she was thrilled that DeGeneres and de Rossi will always have each other to grow old with. The reality star explained that de Rossi wanted to renew the vows with her wife, and celebrate the 14 years they've spent together.
Following Jenner's opening remarks, de Rossi proceeded to give a beautiful speech, which included her saying:
It makes sense to me that the couple would choose now to renew their vows, the last year really has marked a shift in their lives. Following DeGeneres' talk show coming to a close last year, I'd imagine there has been a massive shift in their lives. Now that the show has ended the host is working on a passion project with the Dian Fossey Gorilla Fund. The comedian also said she'd be taking some time for herself with her new time off, and I'd assume some of that time was spent working on one of the 24 houses de Rossi mentioned.
As The Ellen Show came to an end, de Rossi explained she wanted her wife to do something that makes her "really happy," and continue to be a teacher. Now, that both women are taking a well-deserved break, and don't have any plans as of now, according to the 2023 TV schedule, they get to spend lots of quality time together, and based on this video they seem to be absolutely loving it.
The actress continued, gushing about how much she loved her wife, and the time they'd spent together. As she ended her speech the crowd erupted with cheers of joy and clapping. Then DeGeneres, who was clearly shocked by the surprise said:
Both have been clear about how much they've supported, helped, and loved each other over the years. De Rossi explained that DeGeneres helped her embrace her identity before coming out of the closet. And when DeGeneres faced backlash on her show, de Rossi showed her love for her wife, thanking the fans who had supported the show and her partner.
It's so sweet to see this lovely couple renew their vows, and affirm just how strong their love is for each other, and it was just the cherry on top that it was a big surprise for DeGeneres and on de Rossi's birthday.
Your Daily Blend of Entertainment News
Riley Utley is a Weekend Editor at CinemaBlend. She spent many years working in local journalism across the country writing about art, news and sports. One of her favorite films is When Harry Met Sally and she walks around constantly quoting Ted Lasso.