Stephen 'tWitch' Boss' Mother Shares Her Feelings After Seeing A Gap Ad He Filmed Before His Death
tWitch's mom posts her feelings about his Gap ad.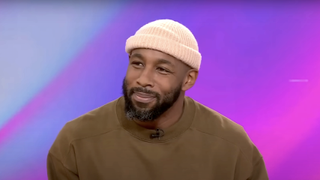 (Image credit: NBC)
In the wake of the tragic death of Stephen 'tWitch' Boss, many have shared their love for the dancer and are working to raise awareness for mental health and suicide prevention. This includes the clothing brand Gap. It introduced a collaboration with The Brooklyn Circus, and the late dancer and DJ is a part of the advertising campaign. With the collection now out, videos of tWtich smiling and dancing are circulating around the internet with this campaign that is "in loving memory" of him. Following the release of the advertisement, the dancer's mother shared her thoughts on the ad he worked on before his death.
While I'd think seeing this ad was a sad emotional moment for tWitch's mother Connie Boss Alexander as well as other family and friends, it's also clear she loves the tribute. She reposted the video of her son dancing for the campaign, using hashtags and hearts to show her love for him and his talent. However, this was also a heart-rending post, as she wrote that she almost called him to explain proud she was, this is similar to her post immediately after his passing about missing him and wishing she could FaceTime her son in heaven. You can see the heartfelt post here:
The So You Think You Can Dance alum can be seen all over the campaign, from a banner photo of him high-stepping to the video of him dancing, it's clear they are working to honor the late dancer. The video is dedicated to him, and notes that in honor of tWtich, Gap is supporting the 988 Lifeline by donating proceeds to Vibrant Emotional Health. You can check out the video of him busting a move for Gap, in their ad dedicated to him here:
Allison Holker Boss, released a statement about the ad campaign and her late husband, saying it will "pay tribute to Stephen's life," and pay "homage to the joy and light he brought to everyone around him." She also said in the statement (via GMA):
So, while it's likely difficult for tWitch's loved ones to see him in these videos, I'd imagine it's also comforting to see him smile and dance again. Watching the ad it does seem like Gap and The Brooklyn Circus captured his essence, he looks like he's having a blast, and it shows how he was "pure light" as Ellen DeGeneres once described him in her emotional tribute to her friend and colleague.
Following tWitch's funeral Holker posted a sentimental tribute to her late husband, saying "we will continue to cast your light and love throughout the world." His mother has also posted about the passing of her son, saying that the family is "completely devastated," but also noting that the dancer "brought light into everybody's lives."
Many have posted about how much they miss tWitch, including Jodie Sweetin and many Dancing with the Stars vets. Many have also spoken about the importance of mental health awareness, including DWTS pro Sharna Burgess and Brian Austin Green. This Gap campaign also shows love toward tWtich and raises awareness for the 988 lifeline and resources surrounding mental health.
While it's probably difficult to watch him dance again after his passing, it seems like tWitch's mother is extremely proud of her son's involvement in this campaign, and it highlighting the dancer's smile, dance moves and joy.
Your Daily Blend of Entertainment News
Riley Utley is a Weekend Editor at CinemaBlend. She spent many years working in local journalism across the country writing about art, news and sports. One of her favorite films is When Harry Met Sally and she walks around constantly quoting Ted Lasso.