Taylor Swift Fans Have Some Beef With Avenged Sevenfold's Frontman
Swifties are not happy with M. Shadows.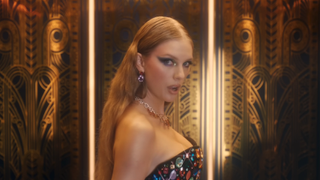 (Image credit: YouTube/Taylor Swift)
In the music industry, Taylor Swift's fanbase is one of the more passionate and defensive groups. They've gotten riled up over many things including Jeopardy contestants failing to recognize the lyrics of the pop star and if they should alter wedding plans because of her tour. Now they are vehement over comments from Avenged Sevenfold's frontman M. Shadows tweeting about his dislike of artists selling multiple copies of the same album.
So, given M. Shadows' aggressive tweet about a general issue in the music industry, and Swiftie's passionate reaction to the situation, it's all blown up. So let's break it down.
Breaking Down What M. Shadows Tweeted And Its Connection To Taylor Swift
In a moment of frustration, the Avenged Sevenfold lead singer tweeted a thread that said:
He never explicitly named Swift, however, Swifties were quick to defend the pop queen. From my perspective, while this tweet does not call out Swift, it coincidentally was posted mere weeks after Swift released her latest album Midnights, which has multiple versions available for purchase.
On top of her new album, Swift's upcoming projects include re-recording most of her albums. Also, Red (Taylor's Version) and Fearless (Taylor's Version) are already out, and Speak Now (Taylor's Version) is likely on the way next based on the "Bejeweled" music video. The cherry on top is one of the re-released songs ended up breaking a 50-year-old record. Making this whole situation with M. Shadows a massive coincidence.
So, while I understand that Shadows' wasn't intentionally calling anyone out, I can also see why Swifties were quick to criticize him.
How Swifties Responded To M. Shadows.
As I mentioned, this tweet, if he wasn't calling out Swift, is coincidental at best, because the pop star recently broke multiple records with her new album Midnights. She broke a Spotify record within the first 24 hours of the album's release, and she broke a Billboard record when ten of her songs on the new album made up the top ten tracks on the Hot 100.
To this point, Djamel Makhlouf tweeted in response to Shadows, saying:
Another fan decided to pull up receipts by citing a Billboard article, posting:
Following the Swifties backlash, specifically the ones citing the charts, M. Shadows tweeted:
He also went on to write that he likes Swift's music and wasn't targeting anyone specifically. However, Swifties still took his comments personally, as @CDKTX tweeted that "no one abused" her to buy more versions of an album, and that his statement was a "big accusation to throw around." She makes a valid point here, as a music fan myself, I've never felt pressured to buy a new variation of an album I already have. To this point @_galaxsea had a tonally confusing comment, but defended Swift nonetheless, saying:
Swift has been at the center of a few different points of drama recently, including her beef with Scooter Braun allegedly impacting Selena Gomez and Justin Biebers' relationship, and the controversy surrounding a frame of the "Anti-Hero" music video. However, this situation with M. Shadows is less controversial and more of a debate about the music industry in general looking at the greater discourse around his tweets.
Riley Utley is a Weekend Editor at CinemaBlend. She spent many years working in local journalism across the country writing about art, news and sports. One of her favorite films is When Harry Met Sally and she walks around constantly quoting Ted Lasso.
Your Daily Blend of Entertainment News
Thank you for signing up to CinemaBlend. You will receive a verification email shortly.
There was a problem. Please refresh the page and try again.