This Week's The Last Of Us Proved That I Picked The Worst Night To Rewatch The Beginning Of Up
Oops, all heartwarming heartbreak.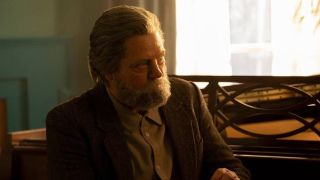 (Image credit: HBO)
Warning: spoilers for The Last Of Us Episode 3, "Long Long Time," are in play.
I picked the worst damned night to rewatch the best (and saddest) scene of Disney/Pixar's Up. Not that there's any right time to break one's heart through a tale of courtship and loss, mind you, but this past Sunday was the absolutely most inappropriate date on the 2023 TV schedule to engage in such a story. I say this because thanks to my brush with Carl Fredrickson and Ellie's story falling on the same day as this week's episode of The Last of Us, I stumbled into a double whammy of sorrow.
Why Did I Watch Up's Opening On Sunday?
Admittedly, it was a random decision that came after Twitter got started about an Up-related production. People were going on about how the next short in Disney+'s spinoff series Dug Days is premiering in February (and it's the final entry with the late Ed Asner's voice). Due to this upcoming story about Carl's first date after losing his Ellie, people started to wonder if they were emotionally ready for the big moment in Fredrickson's life.
And there it was. Someone posted the clip of the film's legendarily heart-crushing prologue to make their point. I haven't seen the movie in quite some time and, though the previous finale of Dug Days had its own bittersweet meaning, it wasn't the same as this. So I watched the clip, sobbed like I knew I would, and went about my Sunday night business.
How The Last Of Us' Third Episode Surprised Me And Reminded Me Of Up
Now, when it comes to The Last of Us, HBO sold the third episode of in a manner so sneaky thta I have to applaud them. As someone who started, but never finished the Naughty Dog game the series is adapted from, I had no clue about Bill and Frank's relationship. So you can imagine what I was expecting when watching the trailer for "Long Long Time," which presented the following picture of the episode's contents:
Can you spot the indicators that this cable network apocalypse was going to break hearts left and right based on that trailer? I surely couldn't but, again, Episode 2 roughly ended at the last part I had played in the game. Even if I'd known how this storyline was going to progress in the game, it was changed significantly for HBO's adaptation.
After doing some reading, I happen to agree with the opinion that "Long Long Time" changed Bill and Frank for the better. Rather than tell a story of regret and drifting apart, The Last of Us used its TV adaptation to develop a love story as beautiful and sweet as the strawberries in our favorite couple's garden. Nick Offerman and Murray Bartlett shifted from uneasy friends to lovers in a sweet and gentle manner, bonding over a mutual love of good food, great wine, and Linda Ronstadt music.
By the time this decades-long romance arrived at its last good day, I was in tears again. Watching Bill process Frank's wishes to get married, have a good dinner and drift off into eternity was enough to utterly break me. Which was naturally out done by the arrival of that final supper, after which Bill decides to take that ride with his husband, satisfied with the life he had with his beloved. When all was said and done, my wife and I were both sobbing, and I was extra motivated to go over to her and hug her as well.
What This Episode Tells Me About The Last Of Us As A Show
I knew that the series was an apocalypse story that tackled the issues of trust, protection, and loss. That knowledge still saw me gut-punched in the premiere, when Joel (Pedro Pascal) is desperately trying to save his daughter Sarah (Nico Parker) after being fatally shot. I thought that'd be the most emotional checkpoint I'd have to encounter until maybe some of the final episodes, but that assumption was rather foolish.
After this week's episode, I truly don't know what to expect from Craig Mazin and Neil Druckmann's masterful drama. All I do know is that I'll leave a little room on my emotional plate for the next couple of Sundays and maybe get some rounds of Goldeneye 007 in before returning to the wastes of The Last of Us. And if my experience with Up is any indication, it's probably best that I avoid any Pixar movies, in case I risk seeing a different flick with an emotional narrative that overlaps with the show.
Trust me when I tell you, it's a journey worth taking. So whether you've held off on watching The Last of Us, or you're just as current as I am, an HBO Max subscription will keep the waterworks going and the heart pumping throughout the rest of this first season. Also know that if you feel like having another good cry, you can stream Up using a Disney+ subscription.
Your Daily Blend of Entertainment News
Senior Movies Contributor
CinemaBlend's James Bond (expert). Also versed in Large Scale Aggressors, time travel, and Guillermo del Toro. He fights for The User.