Two New Changes Are Coming To Battlefield 4 On Console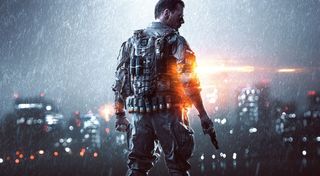 (Image credit: Electronic Arts)
EA and DICE are evolving the way Battlefield players interact with one another across the shooting game series on the Xbox One, PS4 and PC. The two major new changes coming to Battlefield 4 will be the new recommendation engine and the new user interface for setting up squads.
According to Game Informer, the recommendation engine will allow users to find maps and modes based on the player and their squad's play preference. This will keep things streamlined and moving along quickly when it's time to pick and choose maps and modes in Battlefield 4.
The second feature will see the UI getting a major overhaul. Technically this overhaul will be applied to Battlefield: Hardline and the upcoming Battlefield 1 as well, but it's rolling out first for Battlefield 4.
So what does the new user interface do and how does it work for setting up squads? Well, essentially you'll be able to setup your squad before a match starts and then hop into a map or mode from any of the Battlefield 4 map packs or DLC.
This new UI won't be limited to how it's used in Battlefield 4. In fact, as the other two games are added to the mix players will be able to build their squads and then hop into any of the maps from any of the games from the universal interface.
They don't explicitly say what the load times will be like. I can only imagine that hopping from Battlefield: Hardline to Battlefield 1 and then back again and then to Battlefield 4 will likely end up being a crazy experience for console gamers having to sit and wait for each of the maps and games to load every time they're switched around. The PS4 and Xbox One also don't have the memory to store all three games into memory at the same time, not like a high-end rig. In which case I imagine PC gamers with more than 16GB should be able to switch and swap with their entire squad between the games with nary a problem.
I imagine DICE is working hard to make the streamlining between the games as smooth as possible and the loading as limited as possible. I'm curious how this will work, especially between Battlefield 1 and the absolutely mammoth Battlefield 4.
According to Game Informer, DICE is currently hosting some beta tests for this new UI and recommendation feature for Battlefield 4, as they're testing out the features and making sure everything works right ahead of the release of Battlefield 1 this fall.
The interesting thing about it is that DICE will implement the new UI first into _Battlefield 4, _then _Battlefield 1_ and last they will implement it into one of the most divisive and ridiculed entries in the series, Battlefield: Hardline.
This will definitely make it easier for those with all three games to hop between the titles with their squad. It should also make it easier for highlighting maps and map packs that some squad members may or may not have, so you don't have to worry about browsing through the lists to find something. The test audience is limited at the moment but they plan on expanding it as the October 21st release for Battlefield 1 draws near.
Your Daily Blend of Entertainment News
Staff Writer at CinemaBlend.