Gears Of War 4 Multiplayer Will Run In Seasons, Get The Details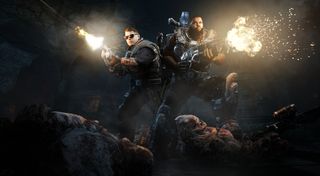 (Image credit: Microsoft)
The Coalition and Microsoft aren't finished with Gears of War 4's multiplayer content. In fact, they plan on issuing new events and content in the form of seasons, similar to other games on the market like Blizzard's Overwatch or how 343 Industries and Microsoft have handled Halo 5.
Over on the official Gears of War website, the developers announced that they'll be specifically addressing ranked play in Gears of War 4. How will they be doing this? Well, they're introducing seasons soon. Over the next few weeks they will announce more details, but we have the basics now.
How it'll work is that starting with Season 1, player rankings will be reset. For those of you who earned some high ranks in what's considered Season 0, there will also be rewards before the reset takes place. They have yet to determine how long each season will run for, but throughout the season players will earn points and level up in rank.
So what's the point of the seasons? Well, the points aren't collected in a vacuum. Stacking the points will unlock the ability to earn new weapon skins, character skins and weapon parts in which to customize your gear in Gears of War 4's multiplayer.
After you earn the goods throughout the season, your rank will reset in the next season and you'll have to work your way back up again, earning points and unlocking new items and gear.
This will also tie into the new matchmaking system for Gears of War 4, so that players in specific ranking categories will be diversified better amongst team setups, so that you won't have a bunch of diamond players scrubbing the floor with a bunch of bronze players.
I'm not entirely sure how well this will work out for party games, where maybe a bunch of party members are looking for a specific bout. Perhaps they'll only break up the high ranking players if they aren't in a party? I suppose this is part of the logistics that The Coalition were talking about when it comes to ironing everything out and making sure it works right before they roll out the new multiplayer seasons and matchmaking for Gears of War 4.
In addition to the seasonal multiplayer events, new gear to unlock, and new matchmaking, they're also introducing a new ranking system that will be "clearer" and easier to understand.
The new tier stats are designed to show just how far you've advanced into a tier and how far you have to go in the rankings. They'll have the new stat system made available on the official website.
They plan on rolling all of this new content out with the launch of Season 1, which is set to happen soon. First, they're going to go through all the new details of the Gears of War 4 multiplayer setup before they cement everything into stone.
They don't say whether or not they will enable the cross-platform play for ranked play between PC and Xbox One gamers in Gears of War 4. They've allowed non-ranked cross-play to take place, but I doubt they'll be pulling the trigger on cross-play when Season 1 starts up.
Staff Writer at CinemaBlend.
Your Daily Blend of Entertainment News
Thank you for signing up to CinemaBlend. You will receive a verification email shortly.
There was a problem. Please refresh the page and try again.