Gears Of War 4 Cross Play Is Being Expanded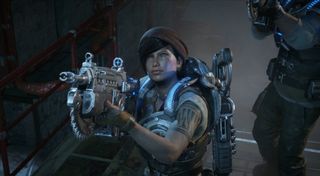 (Image credit: Microsoft)
I don't know if Xbox One gamers will be sad or if PC gamers will be happy, but there's definitely going to be some huge shakeups with the Gears of War 4 multiplayer ecosystem. Why? Well, Microsoft and The Coalition decided to expand the game's cross-platform multiplayer features.
According to Gamespot, Gears of War 4 will enable PC gamers and Xbox One gamers to play against each other... in ranked matches.
The feature will allow Xbox One owners to opt into playing Gears of War 4 either casually or competitively against PC gamers or to stick with just Xbox One players. The toggle is completely optional, and console gamers won't be forced to play against those who may be playing on PC. If you opt into playing cross-play matches you can do so across a variety of playlists, including the ranked playlists where you can earn points and move up in the seasonal rankings to earn rewards.
For PC gamers playing Gears of War 4 on Windows 10, there won't be any options to play cross-platform games, but you will also be in a pool for cross-play. The reason for this is that Gamespot is reporting that The Coalition received a lot of feedback from PC gamers claiming that they couldn't find games or weren't being matched up regularly in Gears of War 4 multiplayer rounds.
In order to rectify this problem, The Coalition decided to pool both Xbox One and PC players together in the matchmaking for those playing the game on Windows 10. This will, in their minds, help fix the problem of gamers not being able to find multiplayer games.
This will also help the community population so that more playlists on Windows 10 can be filled and players who own the game on PC will be eligible to complete two achievements that they haven't been able to get due to the low population and fewer playlists being available on the PC version of the game.
Some people see this move as Microsoft and The Coalition feeding Xbox One owners to PC players in hopes of keeping the multiplayer aspects of Gears of War 4 alive. Others see it as a desperate attempt to keep the game relevant. Of course, there's also the other side of the argument where it also helps bridge PC and console players into one competitive (and cooperative) ecosystem, which is something a lot of gamers have been asking for since... forever.
What's more is that this is just a natural step in a direction that The Coalition was already heading with Gears of War 4's multiplayer. For months now they've been testing, testing again, and testing even more ways to improve cross-platform compatibility between PC and Xbox One. In the test environments and casual play they also implemented cross-play between the two platforms, and they had already mentioned previously that they were investigating the possibility of adding ranked play to the cross-platform multiplayer compatibility in the game.
They don't say exactly when this cross-play toggle will be added to the Xbox One version of Gears of War 4, but they have plans on rolling out the feature sometime later into 2017.
Your Daily Blend of Entertainment News
Staff Writer at CinemaBlend.
Your Daily Blend of Entertainment News
Thank you for signing up to CinemaBlend. You will receive a verification email shortly.
There was a problem. Please refresh the page and try again.