Why The Story Of Call Of Duty: WWII Is So Important, According To Sledgehammer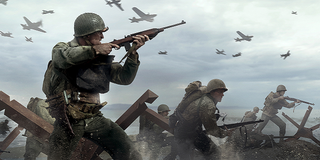 You wouldn't be faulted for thinking that upcoming FPS Call of Duty: WWII came about due to the recent political climate here in the U.S. But according to Sledgehammer co-founder Michael Condrey, that wasn't the intentional and, due to unforeseen circumstances, the upcoming CoD's message might be more important than ever.
Michael Condrey recently had a chat with the folks at Gamespot, discussing the latest Call of Duty game, its story and the motivations behind it. In the game, players will take a whirlwind tour of Nazi Germany on a quest to save a captured comrade and help bring about the end of a reign of power that was built on the principals of hatred and white supremacy. As Codrey reminds, the team at Sledgehammer started working on this latest Call of Duty three years ago, before we had even an inkling that those very same themes would pop up once again here in the United States. For that reason and more, Condrey said it's important that we keep telling the story of World War II and why so many people were willing to give their lives for a noble cause.
From the gaming side of things, it was simply time to leave behind the era of Modern Warfare and return to the boots on the ground campaigns of previous generations. Call of Duty left that era behind about a decade ago and, at the time, folks had had their fill of shooters set during World War II. Last year, Battlefield 1 set the stage for this journey back to the past and, after Call of Duty: Infinite Warfare enjoyed a pretty lackluster reception that same year, the stage seemed set for Call of Duty to follow suit.
From the player side of things, folks seem most excited to return to those familiar battles with familiar weaponry in hand. Just like they got tired of World War II games back in the day, they've grown weary of the space-age combat that's been the norm now for several years.
And while Sledgehammer seems happy to provide those things, it's nice to hear that they are putting just as much time and attention into telling the game's story. And now seems like a good time to remind us why, exactly, the world fought against injustice in the first place.
Your Daily Blend of Entertainment News
Staff Writer for CinemaBlend.