Fire Emblem Warriors DLC Revealed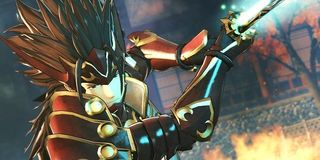 Fire Emblem Warriors is finally here, but even if you manage to blast through the campaign in the next few days, you don't have to worry about your adventure drawing to a close. Nintendo has announced a trio of DLC packs will be heading to the game, introducing new content and characters to take out onto the battlefield.
Nintendo Everything (via Gamespot) has listed details for all three DLC packs currently planned for Fire Emblem Warriors. This new content will be available for both the New 3DS and Switch version of the game, and each pack can be purchased for $9. The packs will include three new history scenarios to play through, three new playable characters, new weapons, costumes and support conversations. If you'd rather save a little money, you can grab the season pass for $20.
We're not sure on the launch dates just yet, but we know the three packs will be themed based on three previous Fire Emblem games. These include Fates, Shadow Dragon and Awakening. Here's a rundown of what each pack will include.
Fire Emblem Fates:
Characters: Azura, Niles, Oboro
Three history scenarios
Five new costumes
13 broken armor models.
Fire Emblem Shadow Dragon:
Characters Navarre, Minerva, Linde
Three history scenarios
Four new costumes
Six new weapons
Nine broken armor models
Fire Emblem Awakening:
Characters Owain, Tharja, Olivia
Three history scenarios
Three new costumes
Seven new weapons
Ten broken armor models
This is a similar structure that was used the last time Nintendo and Omega Force joined forces for Hyrule Warriors, another musou game set in the world of The Legend of Zelda that I've still got my fingers crossed will eventually be brought over to the Switch. It seems pretty clear that they've already got all of that Fire Emblem DLC developed and ready to go, but it's hard to complain when reports are that the base game alone will take you a nice, long time to complete. So maybe it feels a bit like they're holding back content that could have been in the base game, but it's not like the base game isn't already packed with gameplay.
And this is just another example of how Nintendo is finally coming up to speed with modern trends. Not all of their DLC practices have been great, but it's clear they're trying to figure out how to get even more mileage out of their bigger titles. We prefer what we're seeing here, with the three DLC packs available separately. It was a bit odd that the only way you could get the two DLC packs for Breath of the Wild, for instance, was to buy them both. So even if you only wanted the upcoming story content, you still had to buy the fiddly extras offered earlier this year.
Staff Writer for CinemaBlend.
Your Daily Blend of Entertainment News
Thank you for signing up to CinemaBlend. You will receive a verification email shortly.
There was a problem. Please refresh the page and try again.