Freddy Krueger Confirmed For Dead By Daylight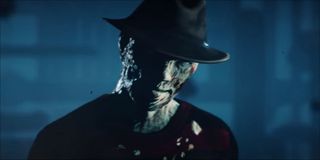 We already knew that there were some obvious hints that Freddy Krueger was possibly coming to Dead By Daylight. Well, it turns out that the classic horror icon from the Nightmare on Elm Street has been officially confirmed to appear in Behavior Inteactive's asymmetric horror title.
Behavior Interactive and Starbreeze let loose a brief 36-second trailer where we get a very short introduction to the clawed creeper. We see Freddy doing his standard taunt where he brings his right hand down behind him where he twiddles the razor-sharp knives on his hand.
The trailer then pans up so that we can finally see which version of Freddy is joining in on Dead By Daylight. It appears the developers are using a version that shares a closer likeness to the newer, revamped version of Freddy as portrayed by Jackie Earle Haley from the 2010 remake of A Nightmare On Elm Street.
Some fans may have wanted the original Robert Englund version of the character, but it doesn't seem like Starbreeze was able to its hands on the licensing to use Englund's likeness.
Nevertheless, Freddy Krueger joins other horror icons in Dead By Daylight, including Michael Meyers from the Halloween series, along with Leatherface from Texas Chainsaw Massacre, confirming that the rumors were true about his addition to the roster.
Sadly both Freddy and Jason still miss out on a follow-up clash from their meeting back in 2003. There was another chance for the two to meet in the 2011 outing of Mortal Kombat 9, where Freddy was a DLC character, but sadly Jason did not make the cut. Yet another small opportunity for the two to meet in the 2015 outing of Mortal Kombat X arose, but even though the game featured Jason Voorhees this time around as a downloadable character from Friday The 13th, it was conveniently missing Freddy.
Well, now that Freddy is set to join Dead By Daylight, it appears as if he'll once again be on the opposite side of the video game isle given that Gun Media and Illfonic Games have the rights to use Jason Voorhees in Friday The 13th: The Game but not Freddy Krueger, and vice versa for Behavior Interactive and Starbreeze Studios in Dead By Daylight.
Nevertheless, gamers who continue to put in time and energy into Behavior's asymmetric multiplayer horror game will find that Freddy has been specifically customized to fit into the survival-horror game.
Freddy is available now and will join the game along with his very own map, Springwood: Badham Preschool. Unfortunately, it's not themed after the horror-boiler room that was so pervasively featured throughout the Nightmare On Elm Street films.
You'll have to stay tuned in on the Steam news page for Dead By Daylight to find out when the new DLC will arrive.
Your Daily Blend of Entertainment News
Staff Writer at CinemaBlend.