Square Just Clarified The Status Of Deus Ex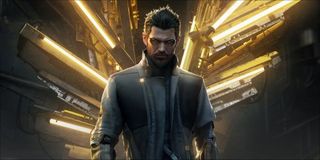 (Image credit: Square Enix)
Square Enix seems to be on a tear lately with reorganizing how the business handles its intellectual property. Earlier in the year the company parted ways with IO Interactive and let the developer keep the Hitman IP. Recently, Square clarified what the status was of the Deus Ex franchise.
In an interview with GamesIndustry.biz, Square Enix CEO, Yosuke Matsuda, explained what is currently happening with the Deus Ex license, telling the outlet...
Essentially, it makes a lot of sense that Square has its studios alternate on what properties it works on. It's not so much that Deus Ex is being abandoned by Square, but simply that as part of the rotation of IPs it has under its belt, the company doesn't want to create brand fatigue for some of its more popular franchises.
It makes a lot of sense, given that Deus Ex: Mankind Divided didn't necessarily set the sales charts on fire. Its biggest drawback was simply that it didn't do enough to separate itself from what Deus Ex: Human Revolution had already achieved, and it came out during a time where it was severely overlooked due to the Presidential campaign taking up a lot of bandwidth in the news media sphere, including many gaming websites. So, there were likely multi-fold reasons as to why Mankind Divided didn't quite achieve the out-of-the-gate success that Square may have originally wanted.
Even still, it's only dormant now because the developers, Eidos Montreal, are currently tasked with working on some upcoming Marvel properties, and the studio was also working on Tomb Raider games and content as well.
Square has had an up and down relationship with producing games themed for Western audiences. Sleeping Dogs received high marks but didn't quite sell as well as established brands like GTA. The Just Cause series has up and down bouts of sales momentum, making it an inconsistent entry in Square's line-up of titles. And Hitman either did okay on the market under Square's watch, or sold under par.
Nevertheless, the company isn't giving up on working with its Western development houses, and is still intent on maintaining the IPs that it currently has under its belt. Of course, none of the games compare to Square's real bread and butter in the form of Final Fantasy. While Tomb Raider is finally starting to show some real moxie in the sales department, it's still not quite on par to the sales beast that is Final Fantasy.
Thankfully, Matsuda recognizes that not everything has to sell 10 million copies to be successful, and he mentions in the interview about balancing finite resources to keep the studios and the IP alive. So while Deus Ex may be dormant for right now, it may be coming back at some point in the near future.
Staff Writer at CinemaBlend.
Your Daily Blend of Entertainment News
Thank you for signing up to CinemaBlend. You will receive a verification email shortly.
There was a problem. Please refresh the page and try again.