There's A New Five Nights At Freddy's Game And, Surprise, It's Weird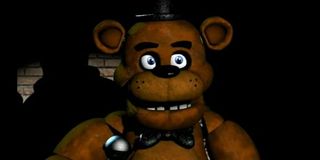 Leave it to Scott Cawthon to come up with a new game for Five Nights at Freddy's and not officially announce it. Not only that, but this new game, called Freddy Fazbear's Pizzeria Simulator, is actually free-to-play. It's also a very different sort of game.
The game is currently available as a free title over on the Steam store. Freddy Fazbear's Pizzeria Simulator launched on December 4th, 2017 with no prior announcements or hype building towards its release.
The description of the game it's pretty basic, with Cawthon explaining that it's designed to add a "lighter" touch in lieu of the holiday season being well underway. The theme of the game is that you design your own pizzas, feed the kids that come to your pizzeria, and attempt to get a high score.
The description and the screenshots on the Steam store page are not quite indicative of what the game actually is. It turns out that it's not a happy-go-lucky Freddy Fazbear's Pizzaria Simulator but actually another entry in the ongoing Five Nights at Freddy's horror franchise.
The game starts with an option's screen where you can first design your pizza, choosing from a variety of topics, and then you go to your pizzeria and throw the pizzas at little, hungry children. Seems simple enough right?
Well, it wouldn't be a Five Nights at Freddy's game if it didn't have a twist, and boy oh boy does this one have a twist.
The Steam store page projects the game as being an 8-bit style arcade shooter, where you throw pizzas at hungry kids. However, that's just a short sequence that ends within a couple of minutes and the rest of the game really is a pizza tycoon game with a typical Five Nights at Freddy's horror angle.
The game allows you to run your own pizza chain in some ways, and you'll need to earn points, upgrade your equipment, and increase the entertainment values of your pizzeria.
As you earn points you can then buy stages, buy the animatronics such as Freddy, Bonnie, and the rest of the Fazbear gang. Additionally, you can purchase medical stations, arcade machines, and other equipment like coin slots. In a way, it combines a lot of the micromanagement from Five Nights at Freddy's World with the typical horror from the standard series.
Scott Cawthon really increased the playability of the game this time around by allowing players to not only partake in the tycoon management, but you can also playtest the arcade games you acquire from the market.
However, as you upgrade your pizzeria, add animatronics, and increase the value of your pizzeria, you'll have to deal with the killer animatronics at the end of each shift. You'll have to use motion sensors and old computer equipment to acquire supplies while also making sure that the animatronics don't come and kill you like the typical Five Nights at Freddy's games.
This is probably Cawthon's most ambitious and most weird entry in the series. There's a lot of meta-game options and potential for jump-scares that will be sure to keep kiddies up at night. You can get a hold of Freddy Fazbear's Pizzeria Simulator right now, for free, from the Steam store page.
Your Daily Blend of Entertainment News
Staff Writer at CinemaBlend.